Paraguay has emerged from the shadows of its larger neighbors Brazil and Argentina to become the "little China" of South America. Its against-the-odds economic success story is sustained by an investment-friendly climate and strong fiscal discipline.

---
Paraguay is a small, landlocked country of seven million people, with one of the lowest per-capita incomes in the region. Small it may be, but Paraguay continues to defy expectations. While larger neighboring countries Brazil and Argentina have been in the economic doldrums of late, Paraguay is proving to be one of the most economically resilient countries in South America. In 2016, its economy grew by 3.6%, and a similar level of growth is expected for 2017.
Paraguay's bid to become the "little China" of South America, with companies from neighboring countries such as Brazil relocating their operations there to take advantage of lower taxes and cheaper labor, is proving a winning strategy in terms of investment and jobs.
"Good preparation, good use of macroeconomic policies and exploitation of the
comparative advantages of Paraguay, are what made the economy decouple from those of surrounding countries," the central bank president, Carlos Fernández Valdovinos, told Global Finance. "We made Paraguay better known; and this helped [us] survive these gloomy, recessive times."
Leveraging its low labor and energy costs, in 1997 Paraguay implemented the "Maquila law"—an investment-attraction regime—through which goods and services are produced in Paraguay. Under the law, goods can be imported tax free for assembly and exported with value-added parts taxed at only 1%. In the beginning, the plan was slow to attract investment, with only a few companies entering the country. However, since 2013 and the election of president Horacio Cartes, a businessman turned politician, it has become more popular.
CHANGING PERCEPTIONS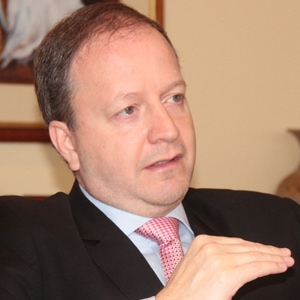 "The Maquila law is a way to attract foreign capital, mainly to create new jobs," says Valdovinos. "For Brazilian companies, it is a way to save money. At the beginning it was one factory, two factories, three, and then they started to really come. In the year 2013 we already had 60 factories, but now there are 120 and growing. Up to the year 2012, the program was slow; but now Paraguay is generating from this channel almost $300 million in exports. The program brought something like 12,000 jobs, which is a lot for a country as small as Paraguay."
Paraguay is presenting itself under a different light, says Juan Barboza, chief economist at Banco Itaú Argentina. "They really started to change things, approving a law for fiscal responsibility and creating institutions such as a PPP [public-private partnership] law," he said. "They showed that a different track record from the one Paraguay had before—of a corrupted and poor country—is a real possibility. This is something you can tell by looking at the manufacturing industry and the investments in real estate."
Despite its dependence on the two regional giants, Paraguay's economy has proven to be robust, says Marlène Rump, an economist in FocusEconomics' economic research department. "Paraguay benefits from its strategic location between Argentina and Brazil, and has managed to maintain a relatively steady growth path thanks to political stability."
Last December, President Cartes vetoed the 2017 budget to avoid excessive debt growth, which means there will be no pay raises for public employees in 2017. "It is commendable that the government is committed to fiscal discipline," says Samar Maziad, vice president and senior analyst at Moody's Investors Service. In 2015, Moody's upgraded Paraguay's government bond rating to Ba1.
Valdovinos says the 2017 budget veto will be useful for the future. "If you look at the 2012 budget for example," he explains, "when public employees got 30% pay raises—which the president did not veto—that really created problems for fiscal policy. Now we know the process and what is going to happen." According to Valdovinos, a new law in March will help with pay raises for some public employees, but the country will be forced to save current expenditure to keep investing in long-term infrastructure projects.
Despite recent economic progress, corruption is still high in Paraguay. According to Transparency International's 2016 Corruption Perceptions Index, Paraguay is ranked at 123 among 176 countries, with a score of 30 on a scale from zero (the most corrupt) to 100 (clean). "The big virtue is not to change from night to day and go from position 128 to position 60 or 40 or 30, because this is impossible," Valdovinos says. "What is important is to go in the right direction."
TRADE AND GROWTH TO DOMINATE IDB PARAGUAY MEETING
Free trade and a new wave of protectionism are likely to dominate discussions on the sidelines of the Inter-American Development Bank's annual meeting in Asunción, Paraguay, from March 30 to April 2, 2017. Economic and financial leaders from the 48 countries that are members of the IDB and the Inter-American Investment Corporation (IIC) will attend the meeting.
The IDB provides resources and financing for the public sector, while the IIC focuses on private-sector operations.
Officials from commercial banks, companies and other international organizations are also expected to be in Asunción at the same time.
The meeting will also see the IDB and the government of Paraguay host the "Latin America and the Caribbean: An agenda of growth and development" business forum. The event will attract 500 private-sector leaders and high-level government representatives from the Americas to discuss the global economic and trade environment. "The possibility of a new wave of protectionism will run high in the discussions," says Paraguay's central bank president Carlos Fernández Valdovinos. "Lower economic growth in China is a worry, but it is also a worry this situation where China is in favor of free trade and the president of the United States is in favor of
more protectionism."
When asked what was clouding the outlook for Paraguay, Valdovinos said protectionism created tensions. "The last thing we need at this point in time is to stop free trade at the world level," he says.
GFmag.com Data Summary: Paraguay
Central Bank: Central Bank of Paraguay

International Reserves

$6.6 billion (2016)

Gross Domestic Product (GDP)

$28.6 billion (2017 estimate)

Real GDP Growth

2015

3.1%

2016*

3.5%

2017*

3.6%

GDP Per Capita—Current Prices

$4,110 (2017 estimate)

GDP—Composition By Sector*

agriculture:

17.1%

industry:

27.3%

services:

55.6%

Inflation

2015

3.1%

2016*

4.1%

2017*

4.1%

Public Debt (general government
gross debt as a % of GDP)

2015

24.2%

2016*

25.5%

2017*

25.6%

Government Bond Ratings

(foreign currency)

Standard & Poor's

BB

Moody's

Ba1

Moody's Outlook

STA

FDI Inflows

2011

$557 million

2012

$480 million

2013

$382 million
* Estimates Source: GFMag.com Country Data