THREATENING THE ECONOMIC RENAISSANCE
By Kim Iskyan
Political uncertainty and continued dependence on oil exports are casting a pall over growth prospects in Russia.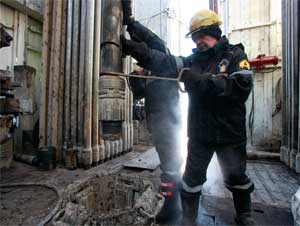 On the surface, Russia looks to be on the rebound. The macroeconomic situation is solid, thanks to strong commodity prices. The political backdrop is uncertain, with elections looming, but the broad political stability the country has enjoyed over the past decade is not under serious threat. President Dmitry Medvedev's modest but encouraging efforts to fight corruption and improve the investment environment have given investors hope that Russia may at long last improve its business climate.
But investors in Russia will face more uncertainty in the coming months. Jockeying between the political and business elites is intensifying with the approach of parliamentary elections in December 2011 and presidential polls in March 2012. Heightened tension between the tandem of Medvedev and prime minister Vladimir Putin, which has ruled Russia over the past three years, casts a pall of ambiguity over the political environment.
Strong growth remains hostage to commodity prices, while rising inflation and government spending increases threaten the foundations of Russia's economic renaissance. And many investors fear that the recent renewed focus on the investment environment may be just another cynical short-term ploy to curry favor with investors without doing anything to change the underlying realities of doing business in Russia.
Temperatures Rise
Russia's election season is setting the agenda in Moscow. The big question is whether Putin, who was president from 2000 to 2008 and was constitutionally prohibited from serving a third consecutive term, will run for president again, or whether Medvedev will remain in the post. Medvedev was handpicked by his mentor, Putin, to take over the presidency in 2008, and he promptly named Putin prime minister.
Since then, despite being nominally outranked by his protégé, Putin has been the senior partner in the tandem, owing to his continued mastery over the vast government bureaucracy, strong links to the country's intelligence organizations and high popularity. Putin will ultimately have the final say on whether he or Medvedev runs in upcoming elections, with input from entrenched business and political players that have much at stake.
But what was a good working relationship between the two men has shown signs of fraying. Public disagreements between the two have become more frequent. Neither seems to be backing down in what remains a civil, but increasingly heated struggle between the two to persuade the other to give up presidential ambitions. Escalating uncertainty over the presidential succession among business leaders and investors is reflected by the recent sharp rise in capital outflows.
At this point, it seems likely that Putin will run and Medvedev will be forced to stand down. The dearth of real opposition means that voters will probably return either man to the Kremlin for the next six years, a term extended from four years under Medvedev in 2008. But which of the two will run for the top office is too close to call right now.
There is mounting evidence that the Russian population is growing weary of the semi-authoritarian model that Putin has imposed since he came to power. Approval ratings of both Putin and Medvedev, while still high, are down sharply from 2010.
Dissent is still minimal. Even small groups of protesters are routinely rounded up by federal troops, discouraging serious demonstrations. "There is no possibility of a radical political change in Russia. There are far too many vested interests," says Chris Weafer, chief strategist at ING in Moscow.
Pace of Reform
In some ways, the entire Putin-or-Medvedev question is just so much political theater. Putin will probably remain the key decision-maker, regardless. But Putin's power will have peaked if he doesn't become president again in 2012. By the time the next elections roll around in 2018 he will be in his mid-60s, an old man by Russian standards. "In reality, the only difference between the two is the likely pace of reform. Medvedev is in more of a hurry, while Putin is more careful," says Weafer.
Critical Commodities
Russia's post-crisis macroeconomic rebound will likely accelerate in the coming months. After the economy contracted by a jaw-dropping 7.9% in 2009, the worst performance of any G20 economy, growth rebounded to around 4.0% in 2010, and is poised to post a similar rise this year. The ruble has appreciated sharply against the dollar since its autumn 2010 lows, and Russia's currency is poised to strengthen further. The budget deficit for 2010 was 3.9% of GDP, significantly lower than anticipated.
In the longer term, though, commodities prices, and the price of oil in particular, will continue to be the critical factor in Russia's macroeconomic outlook. According to Vladimir Tikhomirov, chief economist at Russian investment bank Otkritie, energy companies generate 40% of federal budget revenues, and oil and gas industries account for around of 40% of GDP. The recent price strength of commodities suggests that consensus forecasts for growth, the ruble and the deficit could be raised in the coming months.
Russian dependence on oil
"is the most important risk factor for Russia"
"Oil and gas industries account for around of 40% of GDP" – Vladimir Tikhomirov, Otkritie
But Russia's dependence on oil "is the most important risk factor for Russia," Tikhomirov warns. The potential impact of a correction in commodity prices and/or a global liquidity crisis will grow if the government continues to increase spending in line with rising revenue.
Federal spending has been rising sharply, in particular on pensions– which rose by 45% in 2010 alone–social security and other social programs. The hikes represent an effort to curry favor with voters. Alfa Bank chief economist Natalia Orlova forecasts that pension payments may rise another 25% in 2011, versus a budgeted growth of 10%.
Finance minister Alexei Kudrin has long been the voice of reason in the government, fighting to keep spending low. But he appears to have lost the latest round in the budget battle. The federal budget blueprint for 2012–2014, released in July, further ramps up spending and pushes any hope of balancing the budget to 2015 at the earliest.
The government's own forecasts suggest that the budget will balance in 2012 only if average oil prices for the year clock in at $125 a barrel. As federal spending rises, social spending in particular, Russia's macroeconomic situation and the appreciating ruble will become increasingly vulnerable to any change in commodity prices.
Kudrin may try to make up some of the difference by hiking taxes after elections. Companies outside the extractive sectors would be most likely to see higher tax burdens, and the 13% flat tax on personal income may also be targeted after the election season.
Meanwhile, inflation spiked from 5.5% year-on-year in the summer of 2010 to 9.6% at the end of June 2011 on the back of global commodity- and food-price growth, as well as higher government spending. Alfa Bank's Orlova says that rising prices are "the crucial issue" to pensioners and government employees, particularly in the run-up to elections.
The government is working hard to cap price growth. In early March, the Central Bank of Russia widened the ruble's trading band and hiked interest rates. This was followed by another interest rate increase in early May.
If this summer's grain harvest is strong–a full 38% of Russia's consumer inflation basket is made up of food items–inflation may weaken and finish the year closer to the government's 2011 target of between 7% and 7.5%. Tikhomirov at Otkritie forecasts 9%. If inflation doesn't slow, the government may expand its use of price caps for some food staples and other products, and use other administrative measures detrimental to businesses and investors to cap price growth.
Whispers of Promise for Investment Environment
Endemic corruption, weak rule of law and personalized politics have plagued the Russian investment environment for years, causing weak foreign investment and substantial valuation discounts on Russian assets versus other emerging markets. In response, Medvedev has tried to reduce corruption and promote greater transparency.
He has also pushed a project to turn Moscow into an international financial center, and in late March he launched a wide-ranging program to improve the investment environment. The anticipated accession of Russia to the World Trade Organization later this year or in early 2012 may promote international standards of doing business.
But broadly speaking, the business climate has become worse, not better, over the past decade, and Medvedev's attempts to improve it have not had visible signs of success.Corruption and administrative obstacles remain major barriers to boosting investment in underdeveloped sectors and to attracting foreign investors. Cynics charge that his recently reinvigorated efforts at making things better for investors and business are a late, desperate election ploy to gain favor with the elite.
The recent collapse of a high-profile share swap and joint venture between state oil giant Rosneft and global powerhouse BP reinforced the perception among investors that doing business in Russia is like walking into a nest of vipers. The decision earlier this year by Wal-Mart not to pursue opportunities in Russia, after years of pondering it, was also discouraging.
In the bigger picture, improving the business environment is part of the government's efforts to modernize the Russian economy, reduce its reliance on commodities and promote investment in other sectors. But such changes, however promising, are occurring at a glacial pace.
At this point, the best hope is for authorities to launch a comprehensive reform effort that seriously addresses these issues after the presidential election.
Even then, real change will come only slowly. Political uncertainty over the presidency in the meantime isn't helping things; "Russians will remain nervous about the implications of the outcome on the environment for investment," observes Charles Movit of IHS Global Insight.
Waiting Game
Efforts to diversify the economy will take years to pan out, and in the meantime Russia's fate will remain closely tied to global commodity price cycles.
But the news isn't all bad. Russia's stock market was one of the world's best-performing over a number of time horizons, in part because of low investor expectations. PepsiCo in late 2010 bought a controlling stake in local dairy and juice company Wimm-Bill-Dann for $3.8 billion. Plus, many global consumer companies report margins in Russia that dwarf more competitive emerging markets with a better reputation.
One Russian private equity professional suggests, only half joking, that he hopes the perception of investment in Russia doesn't change. "The worse press this place gets, the better returns I get," he says.