SURVIVAL INSTINCT
CYPRUS
Cyprus' leaders are tackling head on the challenge of maintaining economic growth during the current global downturn.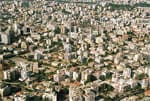 Nicosia, Cyprus' capital, is gripping itself for an economic slowdown.
Cyprus has experienced more than its fair share of ups and downs in recent months. Its banks have been able to sidestep the worst effects of the credit crisis and the subprime fiasco, but tourism, a huge industry in Cyprus, is struggling as cash-strapped European holidaymakers take their vacations closer to home. Construction, another key industry on the island, is also suffering, partly as a result of the decline in tourism.
While Cyprus' economy faces imported challenges, its politicians have been wrestling with the decidedly more local challenge of finding a way to unify the country. Late last year optimism abounded as Mehmet Ali Talat and Demetris Christofias, the leaders of the Turkish and Greek Cypriot communities, met to discuss the problem but the talks have made little headway since then.
One key sticking point in negotiations is the disparity between the two sides' economies. The paradoxical legal position of northern Cyprus, which is within the EU but not subject to its acquis communautaire, or body of laws, has stymied its efforts to close the income gap with the south. A spurt of growth between 2002 and 2007, fueled by construction and tourism, initially increased living standards dramatically. Figures from YAGA, the north's independent investment development agency, show that per capita GDP increased from around $4,000 to $14,000—still below the south's level of around $21,000 but not bad for a state that still depends on the $800 million Ankara gives it every year.
Last year the north's economy contracted by 1.7% after a 2.8% rise in 2007, with agriculture hit by drought and manufacturing hit by the Turkish lira's fall against the euro, which has increased import costs. "The one exception was financial institutions, which rose by 8.6%, reflecting the fact that the banking system is not integrated with world markets and is quite well capitalized," says Fiona Mullen of Sapienta Economics, a Cyprus-based research institute.
By contrast, the south looks pretty healthy, with the EU recently suggesting that along with the Czech Republic, Slovakia and Poland it would be one of only a few EU countries to enjoy GDP growth—of 1.1%, rising to 2% next year. Inflation for 2009 is forecast at around 2.5%.
However, it has hardly been clear sailing, with the Cyprus Employers & Industrialists Federation (CEIF) arguing the government has been slow to respond to fears of an imminent business slump, rising unemployment (probably to 5.1% by end-2009) and falling confidence. To be fair, when unveiling the budget last year, the government did warn that 2009 would be a difficult year; it has had to revise its growth forecast downward twice, after initially predicting 3.7%, then 3% growth.
"We are still expecting a slowdown rather than a recession," says Dimitris Hatziargyrou, deputy high commissioner in London, pointing to the latest government forecast of 2.1%.
The biggest concerns are for the two mainstays of the economy, tourism and construction, which respectively account for around 28% and 40% of GDP. Both were facing problems even before the credit crunch, particularly from the core British market, on the back of the euro's introduction last year and perceptions that local prices have been rising too fast. Cyprus' distance from the United Kingdom—and Germany, the second most important market—at a time of rising flight prices have added to the problem. The appreciation of the euro against sterling—by over 25% in six months—will make 2009 even tougher, as holidaymakers and homebuyers look to non-euro destinations such as Turkey and Croatia. Visitor numbers over the year are expected to drop by one-third despite the launch of direct low-cost flights from the UK to Paphos and Larnaca.
Construction may be even harder hit, although Hatziargyrou says the expectation is for a "slide, not a crash." However, figures for 2008 suggest that the boom has ground to a resounding halt. Property sales in coastal areas such as Paphos, Paralimni and Proteras are down by 40% amid increasing evidence that developers are having cash-flow problems as a result of the banks' reluctance to lend and the evaporation of British buyers (with many Brits instead selling up). Many developers now have to meet 50% of a project's cost themselves, while buyers are typically now being asked for deposits of 40% rather than 20%. The Building Contractors Association warns that 20,000 jobs—one-fifth of the total employed in construction—could be lost as activity slows further.
This slew of depressing forecasts pushed the government to revise upward the E52 million stimulus it unveiled last year, which opponents said was derisory. Some E245 million of the new E300 million stimulus package will be targeted at construction, with the remainder aimed at supporting tourism through such initiatives as a cut in VAT on hotel rooms (from 8% to 5%).
However, the government is moving on other fronts, too. Finance minister Charilaos Stavrakis has announced a E17 million public works program and plans for up to five new desalination plants (on top of the existing three) to tackle Cyprus' worsening fresh-water shortage and reduce the need for costly imports from Greece. The authorities have also unveiled a E200 million housing loan plan aimed at low- and middle-income families as well as promising support—if it is needed—for Cyprus' biggest ongoing project, the E170 million Limassol Marina. The hope is that the new 1,000-vessel marina—complete with restaurants, shops and apartments—will re-invigorate construction and tourism and boost employment.
The Cyprus Investment Promotion Agency, reporting that Cyprus attracted E1.59 billion in foreign direct investment in 2007, up from just E940 million two years before, says the priority will be attracting FDI into the technology, research, education and renewable-energy sectors.
Over 2008, Cypriot banks escaped the worst of the global financial crisis, largely because they have acted traditionally in taking deposits and giving out loans. This pragmatism enabled them to remain well capitalized while subprime exposure remains relatively small. Bank of Cyprus net profits, for example, were up more than 4% to E506 million, against E485 million in 2007, suggesting that the country's largest financial institution, with operations in Greece, Romania and Russia and some E34 billion in assets, was holding firm. BoC is aiming to further expand its overseas operations and has said it expects earnings from its overseas operations to rise, with those in Russia jumping 50%; BoC bought Uniastrum Bank last October, which recorded a net profit of E16 million for the year.
That said, CEO Andreas Eliades has warned that Cyprus' bank sector began to feel the effects of the economic slowdown in late 2008 and expects this to continue into 2009. Observers agree. "Bank profits will undoubtedly be hurt as growth in the pace of loans decelerates and as a result of falling share prices, because banks tend to invest in each others' shares," says Sapienta Economics' Mullen.
Banks have been experiencing a major drop in foreign deposits. In December these fell 18% year on year, due largely to the withdrawal of Russian money as oligarchs felt the pinch back home. The government continues to argue that its banks do not need a bailout package, as fundamentals in the sector remain sound, although last year, in line with many other EU countries, it raised the state deposit guarantee to E100,000 to reassure depositors.
Justin Keay