COUNTRY REPORT: SOUTH AFRICA
Flagging global growth, an ongoing energy shortage and increasing wage and inflation pressures are weighing heavily on South Africa's economy.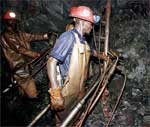 In a hole: South Africa's mining industry has been badly affected by recent power cuts.
South Africa has traditionally been regarded by investors as a gem in an otherwise troubled region, but with an energy crisis threatening economic growth and with the government plagued by corruption scandals, the gem may be losing some of its luster. Analysts, however, say the country is laying the groundwork for a speedy recovery.
During a televised speech before parliament in February, president Thabo Mbeki apologized to the nation for a nationwide energy shortage that has unleashed frequent power outages. "This situation has precipitated the inevitable realization that the era of very cheap and abundant electricity has come to an end," he said, adding that the problem would be resolved in a relatively short period.
The shortage comes due to the lack of energy-sector growth to match the country's post-apartheid economic boom. The government has toyed with privatizing the sector, but the proposal is a politically charged one, as much of the increased demand comes from black communities that had not previously been linked to the power grid. According to Eskom, the state-owned electrical utility, it will take as much as seven years for supply to catch up with the country's electricity demand.
Mbeki's emergency response plan calls for the rapid development of gas-turbine plants that, though less efficient, can be built relatively quickly. He also wants to encourage commercial and residential users to adopt more energy-friendly technology, while also seeking to reduce energy consumption among government agencies. Eskom has introduced an electricity-rationing plan that has made the power outages less frequent and more predictable.
Eskom, which supplies about 95% of the country's power, has a $39 billion investment program for the next five years. The government had contended last year that Eskom would have to finance its own expansion plans by securing loans and issuing bonds, but authorities now say the company will receive government funds for such purposes. Standard & Poor's put Eskom's BBB+ foreign currency rating on "negative watch" amid the crisis, as the rating agency feels the cost of the company's expansion program could turn out to be higher than expected.
The mining sector has thus far been among the most affected by the crisis. The nation's gold and platinum mines shut down for several days in January after Eskom could not guarantee enough power to safely operate elevators used to transport miners in and out of deep shafts. Eskom initially restricted energy flows to mining and industrial companies by 10% in January, though the figure has since been cut to 5%.
The cuts dealt a hard blow to De Beers, one of the country's mining groups. "De Beers cut its consumption of power in 2007 by almost 4% over the previous year," says David Prager, director of communications for the De Beers Group. "Having achieved that voluntary cutback, we were not anticipating the additional and unexpected 10% power cuts in January. The impact on our operations was major and concerning."
The company, however, remains optimistic, and Prager believes it can return toward full operational capacity again, despite the crimped power supplies. The company is working to gradually reduce energy usage by 15% through 2014 as part of targets set under an energy efficiency accord with the government. "This drop in production can make a big difference between a mine being profitable and loss-making," he explains. "We were fortunate that we had the [capacity] to handle the impact of the power shortage in such a way that it has not yet led to job losses."
Labor Troubles
Job losses are still expected. Buyelwa Sonjica, minister of minerals and energy, says job losses at the country's mines are unavoidable. Gold Fields, South Africa's second-largest gold producer (and fourth-largest worldwide), announced plans to cut as many as 6,900 jobs—13% of its workforce—because of the energy shortage, which it predicted would reduce its gold output by as much as 25% during the first quarter of 2008. Solidarity, a local trade union, predicts 15,000 jobs will be lost, though private analysts put the number as high as 80,000 jobs.
The National Union of Mineworkers, which has 280,000 members, has threatened to call for street protests if major job cuts are made. With South African mines employing more than 100,000 migrant workers from neighboring countries, the situation could have a spillover effect into Lesotho, Botswana, Mozambique and Swaziland, among other countries.
The overall economic impact on South Africa is yet to be determined, though outlooks remain mixed. South Africa is the world's largest producer of platinum and second-largest producer of gold. Yet mining contributes only 5.8% of GDP, with financial services (19.6%), manufacturing (16.3%), and wholesale and retail trade, hotels and restaurants (14.1%) remaining the country's top economic drivers. The degree of economic slowdown will depend on the impact of power shortages on sectors that go well beyond the country's mines.
According to JPMorgan Chase, the energy crisis will cut South Africa's economic growth to 3.7% this year, the lowest rate in five years. Growth has averaged about 5% over the past four years. Absa Capital lowered its 2008 growth forecast to 3.6% from a previous 4.5%. Richard Downing, economist for the South African Chamber of Commerce and Industry (SACCI), is less optimistic and feels GDP growth could be as little as 1%-2% in 2008, with record-high prices for precious metals helping keep the economy afloat.
Goolam Ballim, chief economist at Standard Bank in South Africa, feels the slowdown is partly attributable to a natural loss of momentum after several years of strong growth. He had predicted a 4.3% real expansion for 2008. "The electricity challenges will likely shave a mere half of a percentage point off the 4.3% prognosis," he says.
Rising Rates
A falling rand could fuel inflation and prompt the South African Reserve Bank to raise interest rates, further putting the brakes on the economy. Consumer inflation (excluding mortgages) rose to 8.8% in January, slightly higher than December's 8.6%, marking the sixth consecutive month of price increases above the government's 6% target. January's figure was the highest since March 2003's record 9.3% inflation.
"More than the damage from electricity, the economy is slowing as a function of higher nominal interest rates and slower growth in real income to households," notes Ballim. He points out that benchmark consumer lending rates rose over the past year and a half from 10.5% to a current 14.5%. "However, this is still lower than the average of approximately 17% in retail borrowing rates which prevailed between 1990 and 2002," he notes.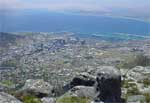 The National Treasury admits the government is unlikely to meet its 6% growth target by 2010, which the Mbeki administration had hoped would help reduce poverty by 50% and curb the nation's 25.5% unemployment rate by 2014. Finance minister Trevor Manuel predicts the economy will grow by 4% in 2008 and 5.1% in 2009, boosting social pressures to create jobs and alleviate poverty. Fitch Ratings agrees with Manuel. "There is a likelihood of pressure for increased social spending, above-inflation wage increases for the public sector and changes to the inflation target," a spokesperson for the agency said recently.
To accelerate growth, the government is implementing an Industrial Policy Action Plan that includes a R2.3 billion budget for industrial policy initiatives and another R5 billion in tax incentives over three years. The Motor Industry Development Program, set to expire in 2012, will also be extended.
"I think it is still too early to tell the effect [of the energy shortage on the economy]. What will be the deciding factors are whether the South African government and Eskom can get the flow of power back on line in a reliable manner," says Stephen Hayes, president and CEO of the Corporate Council on Africa. "If they cannot meet their announced target dates and supplies, then I think you will see a major loss of confidence and a significant downturn in immediate investment," he adds.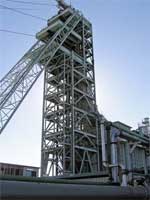 Elevators serving deep shafts have been halted by power outages.
Long-term Opportunities
Hayes contends there is a prevailing assumption that South Africa will reach its targets over the next five years, though. "For most companies that want to enter the market in production, and their agenda is not urgent, there may be advantages for companies to look at South Africa as a longer-term investment destination," he says. "For instance, I doubt that the power shortage will seriously deter Asian investment in South Africa at this time." Indeed, the state-owned Industrial and Commercial Bank of China invested $5.4 billion to acquire a 20% stake in South Africa's Standard Bank Group, Africa's largest bank.
Meanwhile, the stock market, says Ballim, has begun to price in an economic slowdown. "Share prices have already discounted milder economic growth over the near- to medium-term," he says. "The stock market has risen roughly four-fold over the past four years and is still at fairly buoyant levels."
Hayes feels the impact of the energy shortage on the region is more troubling. "There is an assumption that South Africa will meet its own needs first, and as a result those countries on the periphery will suffer most, and they are the economies that are less able to absorb such a shock," he says. "The positive effect that this may have, however, is that countries may look to greater cooperation on alternative energy sources. However, short-term solutions are not so easy to identify."