Lithuania is attracting investment, digitizing and implementing progressive taxes.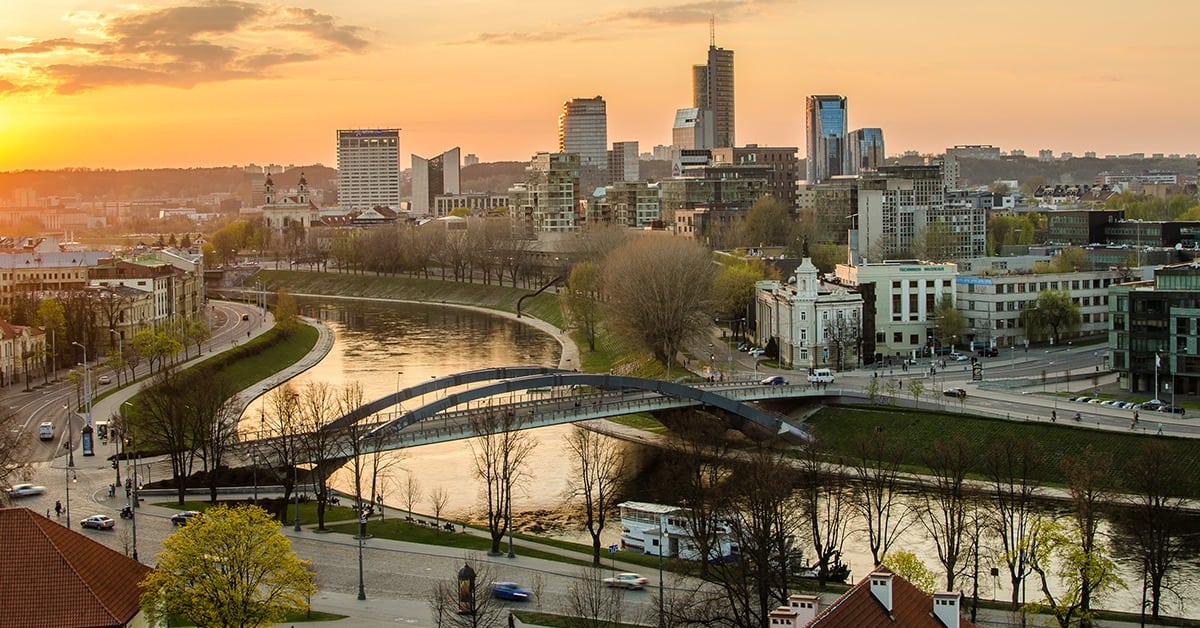 VITAL STATISTICS
Location: Eastern Europe
Neighbors: Russia, Latvia, Poland, Belarus
Capital city: Vilnius
Population (2022): 2.6 million
Official language: Lithuanian
GDP per capita: $26,750
GDP Growth (2022): 2.1%
Currency: Euro
Ease of Doing Business Rank (2022): 11
Corruption Perceptions Index rank (2022): 33
Investment Promotion Agency: Invest Lithuania.
Available investment incentives: State grants and financial incentives offered by Invest Lithuania make no distinction between foreign and domestic investors. Tax breaks are available for large-scale investments. Invest Lithuania is responsible to Lithuania's Ministry of Economy and Innovation.
PROS
Highly digitalized, open and modernizing economy within the EU.
Lithuania offers an educated and skilled labor force with a deep pool of IT-skills and talent and a low-cost base for tech startups.
CONS
As a small, open economy, Lithuania remains vulnerable to external factors such as economic downturns, prolonged interest rate hikes, and volatile commodity prices.
Sources: LRT (state broadcaster), Delfi, Lietuvos Rytas, Bank of Lithuania (Lietuvos Bankas), European Central Bank, Transparency International, Trading Economics, Invest Lithuania, State Data Agency (Valstybinė Duomenų Agentūra), Lithuanian Ministry of Finance, Lithuanian Ministry of Economy and Innovation, Reuters, Bloomberg News, Baltic Times.
For more information, check out Global Finance's Lithuania Economic Report data page.
Lithuania is rapidly gaining a reputation among foreign investors as the most-friendly of the three Baltic states. The country's reputation, built on digitalization, is also bolstering its appeal to tech startups from around the world.
Having made significant strides in digital, Lithuania is leveraging its flexibility to shape a future as a Baltic hub for tech startups and digital solutions. Test spaces for developers are among the benefits it offers.
Education and language skills—around 85% of young professionals in Lithuania are proficient in English, according to Invest Lithuania—government-funded initiatives, and Lithuania's fintech sector has grown from a niche player in 2014 to employ over 40,000 workers, and its cybersecurity space now comprises over 110 companies employing 3,500 workers.
Growth in fintech and cybersecurity is bolstered by the sharpened focus of its universities and technology colleges on science, technology, engineering and mathematics (STEM). The country was ranked second of 63 countries in digital technological skills availability in 2022, according to the Institute for International Management Development's IMD World Competitiveness Yearbook.
Focus on Talent
Lithuania's focus on investor appeal is more comprehensive, however. In the early 90s, it developed a strategic network including seven free economic zones, or FEZs, which today are recognized as pivotal to its success in attracting FDI. Inward investment to Lithuania grew markedly after the country joined the EU in 2004 and the Organization for Economic Co-operation and Development in 2018.
Foreign and indigenous enterprises locating to one of the seven FEZs benefit from tax incentives including no tax on corporate profits during the initial 10 years of business, rising to 7.5% over the following six.
Lithuania also stands out within the EU for providing an e-government one-stopshop for public information and services. Enterprises benefit from a fast online system for registration and payment of taxes; tax returns are filed electronically using i.MAS, an IT-based tax administration system. Its deep pool of digital skills talent, too, is a major factor in attracting institutions like Danske Bank to capital city Vilnius.
"We have been outperforming our initial goals every year" since establishing a subsidiary in 2012, says Aistė Gataveckienė, head of functions and data services at Danske Bank in Lithuania.
"Our journey has been more than a successful. That's down to the amazing team of overachievers we have found here."
MobilePay, the mobile payments app used across the Nordic and Baltic regions, emerged from Danske Bank's product development team in Lithuania.
The government aims to maintain its skills advantage. In January, to help attract highly qualified specialists in the priority skill areas of IT, it offered one-off relocation grants of $3,200 to move to Lithuania. The program includes financial incentives for employers that hire highly skilled employees, foreign and native, from abroad, in the form of tax breaks up to a maximum $5,400 for every worker hired.
Lithuania currently has income tax treaties with 47 countries in the EU, Eastern Europe, North America and Asia. The MII is expected to introduce a tax reform package by the end of this year, tailored specifically to attract skilled foreign IT and engineering talent. Under the proposal, an 8% income tax rate would be applied to the salaries of foreign talent relocating to Lithuania and a tax exemption for foreign startups would be extended from one year to two.
Inward investment accounted for almost 3.1% of Lithuania's GDP last year, and Invest Lithuania, the state business development agency, has supported the entry of
428 international companies since 2010.
These "client companies," which include Citco, Oracle, Wix, Cognizant, Intrum, SEB, Telia, Swedbank, Revolut and ThermoFisher Scientific, now employ over 25,000 personnel in Lithuania. Newer arrivals include German-owned abat Group, a systems analysisprogram development and services supplier to Mercedes, Volkswagen, BMW and DHL, with operations in Europe and North America. The firm found the AI integration and cloud computing talent it needed to help grow its global business inVilnius, says Thomas Bätge, CEO of abat Lithuania.
"We looked for qualified SAP experts fluent in foreign languages and for talents we could train up for consultancy positions and to work with both our local and global operations," he notes. "As a location,
Vilnius has a vibrant high-tech sector and an attractive and stable environment. It has government support for new businesses, a high degree of digitalization and an urban infrastructure that's attractive to employees and employers alike."
UK fintech Hokodo has established a new business-to-business payments operations hub in Lithuania to complement its existing international payment solutions operations in London and Paris. The Lithuanian hub will initially serve Hokodo's clients in the Central European, Nordic and Baltic markets. Hokodo purchased the Vilnius-based payments startup H Pay & Go in June as a strategic bolt-on to support its core business. Significantly, the acquisition included an electronic money institution (EMI) licence from the Bank of Lithuania.
"We needed an EU country with a regulator that is respected and recognized internationally and one that has the experience in dealing with fintechs as well as new financial business models," says Richard Thornton, Hokodo's co-founder and joint CEO. "We wanted access to a talented and educated workforce; a pool of people with payments experience across a range of disciplines such as antimoney laundering compliance, credit risk and payment operations. And we looked for a market strong in European languages skills. Lithuania ticked all these boxes."
Aside from tax concessions, tech startups benefit from two government-funded initiatives—the Business Start-up Visa program and the Lithuanian Business Angels Network—aimed at reducing overhead and entry costs and easing access to markets in Europe, North America and Asia.
Another program, the government-funded GovTech sandbox, was launched in 2021 to drive public-sector innovation in the fintech and digital domains. The initiative is run by GovTech Lab Lithuania. Under GovTech, public authorities can apply for funding to procure pilot solutions—digital and new technologies—customized for public-sector use.
"It's an initiative with global ambitions," says Birutė Bukauskaitė, CEO of MITA. "We want Lithuania to become the launch pad for successful GovTech companies with ground-breaking and globally attractive solutions."
The Bank of Lithuania launched its first regulatory test sandbox in 2018. A year later, the central bank launched LBChain, Lithuania's first blockchain-based regulatory sandbox for international startups as well as financial and fintech companies. LBChain combines regulatory and technological infrastructures.
An 'Unfair Tax' on Banks?
If tech investors and entrepreneurs enjoy an open door in Lithuania, foreign banks may think twice, with the advent in May of a Temporary Solidarity Contribution (TSC) levied on bank profits.
Payable by all banks and credit institutions, the tax is charged against 60% of bbanks' net interest income that exceeds the four-year average by more than 50%. The TSC is projected to raise $450 million annually to shore up government spending in 2023 and 2024.
Central bank chair Gediminas Šimkus says the levy will not become a "longterm tax," but will target a variable share of banks' profits. The International Monetary Fund observed that the TSC could be perceived as "a tax on foreign investments."
"This is an unfair tax on banks," says Eivilė Čipkutė, president of the LBA. The central bank counters that these fears are overblown. "The banking sector maintains very high profitability," Šimkus says. "Banks are earning large profits, and this trend should continue in to the future. The levy will be applied in a precise way, and we do not consider it extreme."
Time, of course, will tell. But Šimkus's comments suggest the government is confident that Lithuania has succeeded in nurturing a cohort of digital operators and innovators who won't be put out by a one-time revenue raiser that doesn't affect them directly.