COUNTRY REPORT / RUSSIA


Having hand picked his successor as Russian president, Vladimir Putin has assured the country there will be a smooth transition of power. How much power he will retain remains in question.

Oil has filled Russia's public coffers and is integral to its continued economic prosperity.
When Russia's president, Vladimir Putin, ended months of speculation by anointing first deputy prime minister Dmitry Medvedev as his chosen successor, he all but assured Medvedev of victory in the country's presidential elections on March 2. That decision, in turn, all but assures the markets that there will be few, if any, economic policy changes. However, analysts argue that the situation remains less clear on the political front, particularly after Putin decided to stay on as prime minister.
A poll on December 24 by Moscow's Yury Levada Analytical Center showed 79% of respondents intend to vote for Medvedev, of the United Russia party, up from just 35% in a December 9 poll, making him a shoo-in for the top job. Communist party leader Gennady Zyuganov and Liberal Democratic party leader Vladimir Zhirinovsky were tied for a distant second place, with a meager 9% each, while former prime minister Mikhail Kasyanov of the Russian People's Democratic Union came in third, at 2%. Five other candidates failed to gain even a 1% share. Barring any major upset, the outcome is therefore predictable.
"There's a pretty strong likelihood of more continuity than change because Putin will still be around and Medvedev is his picked successor, so he's unlikely to break with Putin's policies in any significant way," says Charles Kupchan, professor of International Affairs at Georgetown University. "The business and financial community is feeling reasonably calm because Medvedev is seen as a liberal on economic issues and is unlikely to pursue policies to significantly alter the business climate."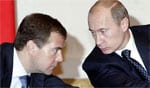 Dmitry Medvedev with his mentor, Vladimir Putin. Observers anticipate a smooth economic transition, but some questions remain over foreign policy.
Merrill Lynch analysts agree with Kupchan's assertion. "Following the elections we do not expect to see major revisions to Russia's current economic and political course, which is positive for stability," said Merrill Lynch (Russia) economist Julia Tsepliaeva in a report issued in December. "At the same time, a new president is likely to be weaker than Putin and have less control over the different factions, which could impair government efficiency," she noted.
Clash of the Titans
Many analysts are speculating over how Medvedev and Putin will work together, especially given Putin's increasingly autocratic stance and his centralization of power within the Kremlin since first taking office in 2000. As prime minister, Putin, whose party already holds a parliamentary majority, will also be responsible for recommending most ministerial appointments, though the president will have veto power. Critics contend that by picking Medvedev, who at 42 will become Russia's youngest leader since Czar Nicholas II ruled at the end of the 19th century, Putin will be able to retain power without having to seek a constitutional reform to allow him to seek a third consecutive term in office.
How they will govern in tandem remains to be seen. "Is Medvedev going to be a real president or just a front man?" asks Stephen Sestanovich, senior fellow for Russian and Eurasian studies at the Council on Foreign Relations and a former special adviser to the US secretary of state for policy toward the former Soviet states. Sestanovich wonders who will be Medvedev's key advisers and if anyone who currently holds power will lose it after March. "Even if it turns out that he is going to be president in name only, the adjustment to a new system in which decision-making power is centered in the prime minister's office may be quite slow and difficult," he says.
Kupchan, who is also a senior fellow at the Council on Foreign Relations, is asking some similar questions, including what will happen if there is increased factionalism within the Kremlin and whether the discipline that Putin's power has engendered will now weaken. "The way the Russian government works has been very much a function of Putin and his ability to strengthen the office of the president, shifting power away from the prime minister and parliament to the presidency. The relationship between the Duma [parliament] and the Kremlin going forward is part of the unknowns that will have to be worked out," he says.
Others, however, say Medvedev may yet turn out to be his own man. "We have Putin and Medvedev being marketed just like a shampoo and a conditioner in one bottle," Boris Kagarlitsky, director of the Institute of Globalization and Social Movements, wrote in late December. "Let's see who is the shampoo and who is the conditioner. You might think that Putin is the shampoo, the main ingredient, and Medvedev the conditioner. But it may turn out that it was vice versa."
Foreign policy will be one key area in which Medvedev may have a chance to strike out on his own, perhaps tempering Putin's rocky love-hate relations with both the United States and the European Union. "On the external front, [Medvedev] is an intellectual with whom the United States and Europe can work relatively comfortably," indicated a strategy report by Ronald Smith, chief strategist, and Erik DePoy, mid-cap strategist, at Moscow's Alfa Bank.
"Months ago, when it seemed that Medvedev had been passed over by Putin, some people said one reason was that he seemed too pro-Western, given the nationalist atmosphere of Russian politics," says Sestanovich. "Now that he has been chosen to be president, it will be interesting to see whether he will feel the need to show that he is not the man he was suspected of being. Perhaps he will feel pressure to be tough or perhaps will seize the opportunity to establish a better tone in relations with the West."
Some are less optimistic. "Whether Medvedev will be able to walk the fine line in foreign policy that Putin has followed is yet to be seen," says Kupchan, adding that Putin has been assertive and confrontational with the US and EU but has known when to pull back. "Without Putin's skills, the more blustery foreign policy that Putin has pursued could intensify and lead to policies that are not just assertive but perceived as hostile by the West."
Windfall Winnings
Although Medvedev is expected to stay the course on the economic front, he will nonetheless face some important challenges, which he will more easily tackle with Russia's oil windfall profits. The government this year is expected to reform its Stabilization Fund by splitting it into the Reserve Fund and the National Prosperity Fund (NPF). The Reserve Fund will be kept at 10% of GDP to serve as a financial cushion, while the NPF, expected to increase to $80 billion from $22 billion, will be invested in foreign debt instruments and equities.
Inflation will likely be the Medvedev administration's most immediate headache. Finance minister Alexei Kudrin predicts inflation will drop to 8.5% in 2008 from 12% in 2007, though the figure is still higher than an initial 2008 forecast of 6%-7%. The 2007 target was 8%. "One of the key tasks for 2008 is to fight inflation," Putin said at a government meeting in Moscow at the end of last year. "Unfortunately, we have not been successful at keeping inflation within the parameters we set." Putin called for several anti-inflation measures, including lending greater support to the domestic agricultural sector to reduce Russia's increased food imports.
"The recent acceleration in CPI inflation led the government to introduce temporary administrative measures to control market prices on wheat, milk and milk products," noted the latest World Bank Russia Economic Report. Other measures included introducing new export tariffs (10% for wheat and 30% for barley through April 30) and cuts in import tariffs from 15% to 5% for milk and dairy products, certain vegetable oils and vegetables for six months. Russia's main food suppliers and retailers also temporarily froze prices on key products at October 15 levels.
World Bank analysts say the measures could help lower prices in the short term but will introduce distortions in relative prices, and their medium-term effectiveness will be limited by rapid money expansion due to booming domestic demand and large capital inflows. "If we trigger a rise in inflation, then all our efforts will have been in vain," Putin admonished his cabinet members. "We must therefore take a sober and responsible approach to the tasks at hand and stay away from populism."
Keeping inflation in check is also fundamental to increasing living standards, allowing Medvedev to develop his own political support. The World Bank says that per capita income in Russia, averaged between 1999 and 2005, was higher than the average for Commonwealth of Independent States (CIS) countries but was only 25% of the average per capita income among the EU-15 countries. The multilateral bank suggests that narrowing this income gap calls for faster productivity growth in the future.
The Oil Question
Oil will be the key to a successful economic plan under Medvedev, who is also chairman of the board at the state-owned Gazprom oil company, which he has suggested should be listed in New York and Shanghai under his watch. The Alfa Bank report says Gazprom's need for substantial growth in domestic tariffs and the continuation of a reasonable tax regime "will have a sympathetic ear at the highest levels."
"They'll have a huge challenge if developments in the global economy are such that we have a resumption in the downward cycle for oil prices," says Jeffrey Anderson, director of the European department at the Institute of International Finance. "If there's a downturn in global oil prices, a substantial part of budget revenues will decrease, and they will have to find a way to deal with that. A drop to $50-$60 a barrel within two years will mean the end of Russia's fiscal and current account surpluses, which will require a more restrictive view of government spending."
Meanwhile, Medvedev will inherent a robust economy, which has helped consolidate Putin's strong popularity ratings. GDP grew by around 7.6% last year, with a 7% budget surplus and a rise in international reserves from $44 billion in 2002 to $455 billion in 2007. Merrill Lynch predicts the economy will grow by 6.6% this year and 6.3% in 2009. The Institute of International Finance is taking a slightly more cautious view, expecting the economy to grow by 6.1%, with the current account balance falling from last year's 6.4% of GDP to 1.6% this year.
"With oil prices remaining high in the foreseeable future," says Kupchan, "the government will continue to benefit from flush pockets."
Antonio Guerrero