LAND OF OPPORTUNITIES
By Dan Keeler
The improving economic and investment environment makes Angola a tempting target for foreign direct investors. But changes aimed at improving the business environment and building infrastructure must move forward before the country reaches its full potential.
While much of the world has been preoccupied with the impact of the European debt crisis, Angola has been forging ahead with reforms aimed at helping it recover from its own debt crisis in 2009. Under the auspices of an IMF standby agreement, Angola's leaders have improved macroeconomic stability, rebuilt foreign exchange reserves and paid off a substantial pile of overdue debt.
The government has also revamped the country's investment incentive scheme to make it more selective and effective, and established a new public-private partnership system to encourage private investment into much-needed infrastructure development.
A long-standing complaint of foreign investors was the challenging business environment—Angola was, in the past, one of the most difficult countries in the world in which to operate. But the government has been making a concerted effort to streamline processes for setting up and running a business, including establishing a one-stop-shop system for companies looking to invest.
The reforms appear to be paying off. Helped by high oil prices, Angola's economy is expanding strongly, with GDP growth having the potential to hit double digits within a year. Foreign investment has also remained strong, particularly from fellow emerging markets such as Brazil and China.
TRANSPARENCY NEEDED
Hazards remain, however. The country's economy is heavily reliant on oil, and efforts to diversify are hampered by the fact that much of the country's infrastructure has still not been rebuilt since the end of the civil war in 2002. Despite the government's efforts to promote transparency, corruption is still rife. In 2011's Transparency International Corruption Perceptions Index, for example, the country ranks a lowly 168th out of 183 countries.
"The opportunity in Angola is so big that most people are really impatient—they want to get in there now. Unfortunately, they encounter so many administrative and bureaucratic issues that they get frustrated"
– Nicolaas Alberts, Investec Asset Management
Angola fares extremely poorly in other international rankings, too. It is 148th out of 187 countries on the United Nations' Human Development Index, which measures countries' ability to offer its inhabitants the capability to "lead lives that they value and have reason to value." On the World Bank's 2012 ease of doing business ranking Angola stands 172nd out of 183 nations, marking it out as one of the most difficult countries in sub-Saharan Africa in which to do business. And the US-based Heritage Foundation ranks Angola 160th out of 183 countries in terms of economic freedom.
In its 2012 report the Heritage Foundation does, however, acknowledge the progress Angola is making. Although it maintains that Angola's "overall regulatory environment remains constrained by a lack of commitment to policies that support open markets," the report notes that "Angola gained notably in business freedom … achieving one of the largest improvements in that category in the 2012 Index."
Roger Ballard-Tremeer, honorary CEO of the South Africa–Angola Chamber of Commerce and South Africa's former ambassador to Angola, says the government of long-standing president José Eduardo dos Santos deserves considerable credit for the recent improvement in the business climate: "The governing party's 2008 election promise of bringing about 'good and transparent governance' and president dos Santos' late-2009 declaration of 'zero tolerance for corruption' are slowly but surely contributing to better public and private governance," he comments. Most helpful, says Ballard-Tremeer, have been a 2011 investment law aimed at reducing the bureaucracy involved in investing into the Angolan economy and "the very active support of the IMF," which has helped stabilize the economy.
Yvette Babb, a South Africa–based Africa strategist at Standard Bank, agrees: "What's been critical in the past 18 months has been creating a better business environment for companies to operate in Angola—improving the stability of the macro fundamentals as well as opening up to foreign investors and ensuring they are able to follow the very many requirements in terms of license and registration. That has been the most significant recent shift—there is increased transparency and an increased ambition to create an institutionalized framework for macroeconomic management."
Babb believes the IMF has been instrumental in enabling both the fiscal and regulatory transformations in Angola and that its work in the country will have a lasting impact: "The [changes] that were started under the IMF are likely to have a long shelf life as there seems to be a strong commitment to improving domestic processes."
IMPROVING GOVERNANCE
Nicolaas Alberts, director at Investec Asset Management, Angola, welcomes the government's commitment to change but urges caution on the part of potential investors: "This is a country that is serious about improving," he says. "It's putting in the right structures and institutions, and it's improving governance. But it's got such a long way to go that we need to be patient."
Alberts's comment highlights a key paradox confronting companies interested in investing in Angola. On the one hand, there is no question that doing business in Angola is still extremely difficult and is impeded by a lingering lack of transparency as well as the still-pervasive whiff of corruption. On the other hand, the economy is growing rapidly, and potential investors are succumbing to the fear that if they don't move fast, they may miss the boat. "The opportunity in Angola is so big that most people are really impatient—they want to get in there now," Alberts observes. "Unfortunately, they encounter so many administrative and bureaucratic issues that they get frustrated."
STRONG GROWTH
It is easy to understand why companies are in a hurry to get a foot on the ground in Angola. In a world where sustained economic growth of any level is a relative rarity, the country is turning out some impressive numbers. The World Bank expects GDP growth this year to hit 8% and to burst into double figures in 2013. That growth is contributing to a surge in domestic demand that foreign companies are eager to help satisfy. "Since almost 85% of all goods and services still need to be imported, the opportunities are endless," says Daniel Swanepoel, managing director of Daniel John Consulting, which helps foreign companies navigate the complexities of setting up in Angola.
According to Babb, the underlying economy may be even stronger than the figures suggest: "The prudent nature of the budget has reduced growth to some extent over 2010–2011, plus they had some supply side issues in the oil industry," she says. "That will rebound in 2012 and lead to double-digit growth—up from levels of 4% in 2010 and 2011."
ENCOURAGING FOREIGN INVESTMENT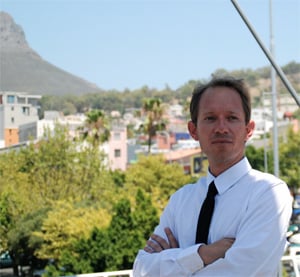 Swanepoel, Daniel John Consulting: Trade opportunities are endless as 85% of all goods and services are still imported
As part of its effort to diversify the economy away from its heavy reliance on the oil industry—which currently accounts for an estimated 85% of the country's output—the government is offering incentives to encourage companies to invest in other industries. Aguinaldo Jaime, head of Angola's investment promotion agency ANIP, says the key sectors into which he hopes to entice foreign investment include agriculture, fishing, transportation infrastructure, energy, water, telecommunications and tourism. "We want to work towards the reindustrialization of the country, the diversification of the economy and an increase of the internal production," Jaime wrote in a recent document aimed at investors. "Foreign investors can make a real contribution to this process."
Once again, the government's efforts appear already to be yielding results. According to Alberts, the non-oil sector has been growing faster than the oil sector for the past three years. With increasing interest from foreign investors, non-oil sector growth should continue to accelerate.
As well as creating a more stable and resilient economy, Angola's government is hoping its drive to diversify the economy will also help spread the spoils of the country's growing prosperity among the wider population. It has good reason to focus on that goal: The past year has seen an unprecedented number of public protests, prompted in part by the growing gulf between rich and poor in Angola. In a trend that some commentators have likened to last year's Arab Spring uprisings, small groups of young Angolans have taken to the streets to voice their anger over what they see as increasing inequity. "Although we are seeing on average a high level of per-capita income, it is unequally distributed across the population," says Babb. "Stimulating the non-oil sector and generating more jobs will be essential to distributing wealth more equitably."
Details of the extent and frequency of the protests are hard to come by as the government has reportedly tried to suppress media coverage. Sources on the ground in Angola confirm that protests against the government have been taking place, although most "have been disbanded very quickly by the authorities," says Babb. Investec's Alberts believes the unrest may have a positive long-term benefit for the country: "The protests are small, but for the first time the demonstrations are appearing on the [government's] radar, which might be a positive force in encouraging the government to fast-track the reforms even more," he comments. Swanepoel agrees: "We have seen some small uprisings during the past year. I do not see this as a negative. It is good that the youth voice their opinions and frustrations."
"Stimulating the non-oil sector and generating more jobs will be essential to distributing wealth more equitably"
– Yvette Babb, Standard Bank
Regular visitors to Angola almost invariably marvel at the pace of change there. With economic development happening so quickly—and so visibly—it is hardly surprising that those on the margins feel aggrieved. However, a substantial proportion of the heavy investment in infrastructure development is being funneled into constructing social housing and building transportation links between rural areas and the cities, holding out the promise that Angola's poorest citizens will begin to benefit more from the country's economic resurgence. With an election due by the end of this year, Angola's incumbent government will be hoping that the general population is enjoying—rather than resenting—the country's progress.