EXPANDING HORIZONS
ICELAND
Iceland is going all out to expand its economy—and the global reach of its banks and corporations.
With a wealthy consumer base that has the sixth-highest per capita GDP in the OECD, 0.8% unemployment, negligible corruption and crime rates, an 18% corporate tax rate, ample natural resources and a pro-business government, Iceland is a virtual paradise for global investors. However, with a total population of just 300,000 nationwide, the country provides Icelandic companies with minimal room for growth. Their appetite for international expansion opportunities is helping to put the Nordic island nation on the global corporate radar.
Baugur Group, a local investment firm, is among the country's most acquisitive ventures, setting its sights on some of Europe and America's most prestigious brands. Founded as a local cut-rate supermarket company, some of its acquisitions include Hamleys, the UK's best-known toy store; Magasin du Nord, a Danish department store chain; and Big Food Group, a British supermarket chain for which it paid $1.25 billion. Last October Baugur said it might join Dubai's Landmark Group to bid for Saks, New York's iconic luxury department store, in a move that triggered a sharp rise in the store's stock price.
Other Icelandic investors have taken stakes in everything from Russian breweries and Bulgarian pharmaceuticals producers to British investment banks. Local financial institutions that are helping to fund such acquisition sprees, and which were privatized in the 1990s, are themselves pursuing international expansion drives as a way to reduce their dependence on the local economy and increase their potential revenue base. All three of the country's largest banks—Glitnir, Landsbanki and Kaupthing— continue to increase their market shares throughout the other Nordic countries and the rest of Europe but have recently begun a foray into fast-growing Asian markets as well.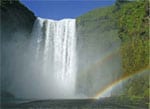 Nordic paradise: Iceland's wealthy consumer base, minimal unemployment, low corporate tax rates and pro-business government provide a fertile environment for expansion-hungry domestic banks and corporations.
Landsbanki, formerly the country's central bank and currently its second-largest financial institution by market capitalization, aims to become Iceland's first bank to open a full Asian branch when it upgrades its Hong Kong representative office early this year. The Hong Kong branch will focus initially on providing trade financing for small and medium-size businesses but also plans to offer project finance for energy projects throughout Asia. Landsbanki also plans to open a Singapore branch this year, where it will offer wealth management services, though long-term plans call for offering Asian clients the bank's full line of equity products and money market funds. According to the bank's co-CEO, Sigurjon Arnason, the bank prefers organic growth to acquisitions for its Asian expansion.
Landsbanki's locally generated income in Iceland has declined from 100% a decade ago to around 50% in 2007, due to its international expansion strategy that most recently involved the acquisition of Bridgewell Group, a British brokerage firm, for some $120 million. Last year, Close Brothers, a UK bank, rejected Landsbanki's takeover bid as too low. The Icelandic bank joined forces with Cenkos Securities, a British investment bank start-up, to submit a £1.4 billion bid.
Glitnir Bank is also growing its overseas presence. Revenues from international activities gave Glitnir 46% of its pre-tax profit during the first half of 2007. "Geographic diversification into Norway and several other countries helps to dampen possible volatility related to the Icelandic economy," says an October 2007 credit analysis report from Moody's. "In terms of diversification by assets, 61% of total assets were booked in Iceland, 28% in Norway and 11% elsewhere as of year-end 2006. As at 1H07, the loan portfolio was 51% in Iceland and 35% in Norway, with the remaining 14% broadly spread."
Glitnir expanded into Norway in 2004 with the purchase of KredittBanken (now Glitnir Bank ASA), a small regional bank. The following year, it acquired FactoNor (now Glitnir Factoring), a Norwegian factoring company, followed by the purchase of BNbank, a Norwegian mortgage lender, in 2006. In 2006 it made three other acquisitions in Norway and one in Sweden. In February 2007 it also acquired FIM, Finland's fourth-largest asset management firm, boosting the bank's assets under management by €3 billion, for a total of €10.9 billion at the end of June 2007.
"Glitnir Banki aims to leverage its expertise globally in three niche market segments: the food sector, primarily the seafood sector outside Iceland; sustainable energy, focusing primarily on geothermal energy; and offshore supply vessels," adds the Moody's report, noting that the strategy included the opening of a new branch in Halifax, Nova Scotia, a new representative office in Shanghai in 2006 and an office in New York last year. The bank has branches in London, Copenhagen and Luxembourg as well.
"While we view Glitnir's broad geographic diversification positively, we remain cautious with respect to a continuation of the bank's hitherto aggressive acquisition strategy until the integration process—in terms of organization and systems—has been completed for its many acquisitions since 2005," concludes the Moody's report. So far, investors are not as worried. When the bank issued a $1 billion bond issue in the United States last September, orders were reported at closer to $1.7 billion, with Citi, Credit Suisse and Wachovia as bookrunners. The five-year deal carried a fixed rate of 6.375%.
"The bank is in a very good position, and we are pleased with the transaction's performance and the investors' strong support for Glitnir," said Glitnir CFO Alexander Gudmunsson after the bond sale. For the bank, the US market is particularly appealing due to its potential for geothermal power development, an area for which Iceland is well known. Glitnir estimates the US requires $9.5 billion for geothermal projects already under way, as well as another $29.9 billion for new projects through 2025. Glitnir aims to take a piece of the action.
Iceland's Kaupthing Bank, which operates in 12 countries and has made some impressive acquisitions of its own recently—including Robeco, a small Belgian bank; Singer & Friedlander, a UK bank; and a stake in FiNoble Advisors, an Indian investment services company—has an international strategy that also includes diversifying both its investor base and funding sources. In 2007 it launched its first Mexican peso bond issue, for the equivalent of $200 million, marking the first Mexican currency issue by a Nordic bank.
Kaupthing last year also launched its debut Canadian Maple bond for C$500 million, with a 4.7% fixed rate maturing in 2010. While the bank had intended to raise C$300 million, not only was the issue increased, but the order book was reported at C$700 million. Merrill Lynch Canada and TD Securities were joint leads and bookrunners, with HSBC Securities (Canada) and RBC Capital Markets as co-managers.
Growing Influence
The Icelandic government itself is keen to increase its international influence. Having joined the European Economic Community in 1994, it will now vie for a non-permanent seat on the United Nations Security Council for 2009-2010, with the election scheduled for this year. "The decision reveals a new vision of Iceland's position in the international arena and a new confidence and vigor in foreign affairs," prime minister Geir Haarde said during an address at the University of Iceland last September. "It entails a view of Iceland as a robust small nation and a rejection of Iceland's old self-image as a powerless mini-state. This is not an indicator of vanity or arrogance but a natural reevaluation and the ongoing quest to strengthen Iceland's position."
Government plans call for exporting energy to mainland Europe via cable. With more than 70% of the country's primary energy consumption coming from geothermal energy and hydropower, Iceland is becoming a global leader in developing such resources. Reykjavik Energy Invest (REI), an Icelandic investment fund, announced plans to invest $150 million in geothermal development projects in Africa over the next five years, beginning in Djibouti. ICEIDA, the Icelandic development cooperation agency, has supported Uganda's efforts to develop its geothermal potential for several years and last year signed a bilateral agreement to develop geothermal resources with the government of Nicaragua.
On the home front, steady economic growth, though slowing its pace since mid-2006, continues to fuel concerns over inflation, prompting Standard & Poor's and Fitch Ratings to cut their ratings. Inflation has fallen from a peak of 8.6% in August 2006 to an average of 2.6% in 2006 but is still above the central bank's 2.5% target and is predicted to rise to 4% this year and 3.5% in 2009. The government's plans to maintain an expansionary fiscal stance in 2008-2009 will add further pressure.
"It is necessary to break out of the snare of inflation that has tethered the Icelandic economy," said the central bank when it hiked interest rates in November by 45 basis points to 13.75%. "A laxer monetary stance now would only trigger more persistent inflation and a more painful adjustment later." According to central bank governor David Oddson, interest rates are not likely to be cut until 2009.
"Even if there's a hard landing, which seems quite a possible scenario, we're very comfortable with our rating and outlook," said Moody's credit analyst Joan Feldman-Vidra in an interview last November after the ratings agency announced it would keep its Aaa sovereign rating on Iceland steady with a stable outlook. She feels there's still an overdependence on monetary policy to cool the economy. "This is an economy that's used to extremes," she says. Despite its competitors' downgrades, Moody's has kept Iceland's rating steady since 2002.
Meanwhile, with meager unemployment and growing incomes, Icelanders seem little concerned about such matters, though they voted for a new coalition government last year that will maintain its pro-business reform plan but with greater emphasis on social programs. The 2007 UN Development Program's annual Human Development Index cited Iceland as the world's most desirable country to live in, knocking Norway off the top spot it held for six years.
Antonio Guerrero