Light At The End Of The Tunnel
By Vanessa Drucker
Portugal's new political leaders have a plan to dig their country out of its deep fiscal hole.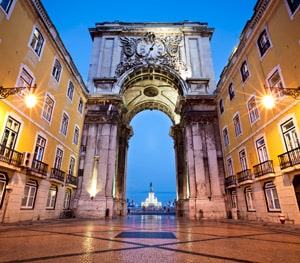 Portugal is about to receive a dose of strong medicine. On May 15, the European Union and the International Monetary Fund agreed to grant the country a $78 billion, three-year Extended Fund Facility, in a "troika" that includes the European Central Bank, which provides lines of credit to Portuguese banks to keep them afloat. The creditors front-loaded the bailout by agreeing to disburse almost half of the funds during the first year.
The bailout terms established basic parameters and timelines, leaving Portugal some autonomy on how to achieve those targets under national legislation. The country must reduce its budget deficit from a current 9% of gross GDP to 5.9% by the end of 2011, to 4.5% in 2012, and to 3% by 2013. Thus fiscal consolidation would need to exceed about 10% of GDP by 2013, at a time when the tax base is projected to shrink by a cumulative 4%.
Although the lenders were not offering any free lunches, the terms were less stringent than expected. "It appears the EU/IMF wanted a buffer. We expected a lower package of only about $60 billion to $65 billion," says Fabio Fois, European economist at Barclays Capital.
But a genuinely rigorous fiscal plan was needed to calm markets, which was reflected by loan terms that address the borrower's structural weaknesses. The disbursements must be approved in tranches, conditional on the country's fiscal adjustments. "If the government doesn't deliver, the IMF won't want to waste more money," says Fois, who notes that markets must pay close attention to the implementation of reforms.
Although the finer details of the reform measures continue to evolve, the EU/IMF memoranda indicate some broad guidelines. For instance, the structural adjustments in the public sector are aimed at cutting waste, eliminating mayoral positions and slashing headcount. "Some public bodies are redundant, multiplying the number of entities and job posts," says Tullia Bucco, an economist at UniCredit Global Research in Milan.
On another key front, increased labor market flexibility is yet to be legislated. Miguel Morgado, a professor of political science at Catholic University in Lisbon, points to the "paradox" of collective firing that now operates: "Employers can fire, say, 50 people at a time, but not just one incompetent individual." The highly regulated labor market is in line for reforms to unemployment benefits, severance payments and limits on minimum wage increases. A hefty reduction is prescribed for employers' social security contributions, which is to be offset by other tax increases.
Meanwhile, the bailout memoranda home in on opening up protected industries to competition and substantial privatizations. The program focuses on market liberalization in electricity and gas to reduce consumer prices with "a review of the efficiency and generosity of support schemes in the electricity sector," says Bucco. Prime minister Pedro Passos Coelho has promised to accelerate contentious privatization programs, like that of the state bank Caixa Geral de Depósitos, and to renegotiate an infrastructure project for a high-speed rail.
Another vital arm of the program is directed toward the liquidity and solvency of the financial sector, with measures to bolster bank balance sheets. Important elements include fortifying the banks' collateral buffers and instituting an orderly deleveraging process. Banks will need to attain a core Tier 1 capital ratio of 9% by the end of this year (it was standing at 8.2% in early June), and 10% by the end of 2012. Bucco notes that we are still awaiting the definition of core capital prior to the adoption of Basel III, although "deferred tax assets will no longer be allowed, which will lower the capital ratio when that asset is deducted."
Public Support
It is no surprise that there should be little public appetite for stringent remedies, especially from one of the poorest nations in Western Europe. Compounding the bitterness, IMF stipulations still loom large in the collective memory of the public, having been in effect twice before—in 1979 and again from 1983 to 1985. "The Portuguese speak about the IMF's role rather than the EU's, and the opposition emphasizes the IMF," says Antonio Barroso, a Europe analyst at Eurasia Group.
"The coalition may work in the short term, but there will be bickering"
"Where ideological preferences exist, there will always be an incentive to pull the plug" – Antonio Barroso, Eurasia Group
Notwithstanding the distaste for the IMF, half the populace appears to recognize that external leverage could furnish the perfect opportunity to implement urgently needed reforms. The main challenge may not be so much a recalcitrant public as an unstable political party system prone to coalition governments. The two majority parties, the center-right Social Democrats and the conservative Popular Party, must share the reins in the 230-seat parliament. Coelho will need to amend Portugal's constitution to implement labor reforms, but that will require a two-thirds parliamentary majority and the cooperation of the unions who adamantly resist such changes. "Where ideological preferences exist, there will always be an incentive to pull the plug," warns Barroso. He adds, "The coalition may work in the short term, but there will be bickering, and reforms don't happen overnight."
Yet the troika has been sensitive to the importance of forging a socially balanced scheme that protects the most vulnerable segments of the population. Announcing the aid package, the EU highlighted how the troika was striving for increased wage flexibility and wage adjustments in line with productivity, rather than direct wage cuts. "Specifically, those earning the lowest wages and pensions will be exempted from the planned 5% cut in nominal public sector wages and the freezing of pensions in 2011," Bucco reports. So far, only those pensions over €1,500 per month have been slated for tax levies, and very few retirees receive such amounts. What has been less discussed are critical cuts affecting the quality of health and education services.
For now, a strong consensus remains about the benefits of European integration. After the Carnation Revolution in 1974 and the overthrow of a communist dictatorship, "we became more stable in the 1990s," says Morgado. "We came up with European involvement as a sense of shared purpose. If that collapses, our regime would lose its collective justification."
High Hurdles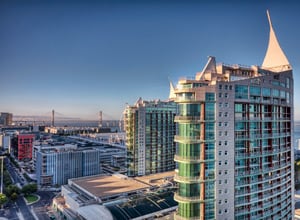 Lisbon, Portugal: Even during the more prosperous years, growth was paltry
Even during more prosperous years, Portugal registered paltry growth at an average of 0.7% annually over the past decade. Without a significant boost to growth, neither fiscal consolidation nor privatization proceeds will be able to reverse the downward trajectory. "Non-financial-sector debt is eye-wateringly high, at over 8.5 times EBITDA, which represents some of the highest levels among Europe's periphery," says Patrick Coast, a London-based economist at Lombard Street Research. He believes an "unsustainable" debt burden would be likely to force other sectors of the economy to run down their surpluses. Although household and financial sectors continue to run surpluses, they probably cannot absorb the needed adjustment. That means the current account will have to make up for the adjustments and perform a profound shift over a short time. Coast is not hopeful. He points out that Portugal's recent contractions have in fact narrowed the deficit, most recently from 13% to 9% of GDP over two years, but believes it requires a leap of faith to foresee that figure becoming a surplus over the next three years. To aggravate matters, Portugal relies on beleaguered Spain to buy a quarter of its exports; and even if Portugal does recover price competitiveness, it will take time to manifest itself in increased volumes.
Adding to the litany, unemployment stands at 12.7% and is projected to exceed 13% by 2012. "We never before saw such levels in our history, even during the 1970s. Until 2008 unemployment had always remained below 8%," says Morgado.
Equally troublesome is the underlying collusion between government and the financial elite, leading to monopolies and preferential contracts. "We have strangulated our tradable sectors by raising taxes to obtain additional resources for corrupt infrastructure deals," says Morgado. "Incentives have become perverted and people have become cynical."
"We have strangulated our tradable sectors by raising taxes to obtain additional resources"
"Incentives have become perverted and people have become cynical" – Miguel Morgado, Catholic University, Lisbon
Cautious Outlooks
Reality must bite as the scale of impending recession becomes clear. Under the fixed-exchange-rate system of the euro regime, Portugal cannot devalue its currency and allow nominal devaluation to pick up the slack. Some inflation would help to repay debt, but "the only way out is to let real wages fall," says Coast. However, "deflation is the worst scenario," he adds. Coast forecasts default, possibly triggered by widening spreads over German debt, since fiscal retrenchment appears "a Herculean task."
Lombard Street Research predicts that the coming recession will be severe, making current official predictions look rosy. (The IMF is forecasting a 2% economic contraction for both this year and next, with the OECD expecting shrinkage of 2.1% and 1.2% respectively.) Morgado hears rumblings in Lisbon, for the first time ever, of leaving the eurozone. If the economy does not recover and the likelihood of repaying debts shrinks, he can envisage a partial default and restructuring, with a eurozone exit included in the package. "Otherwise, we will be trapped in a debt spiral," he laments.
On a more positive note, however, the population, which voted out the prior government in June, has accepted that previous economic policies have not worked. While austerity will be unpopular, Barroso believes that people will be prepared, "as long as they see some light at the end of the tunnel."