An array of investor-friendly attributes are turning Vietnam into one of Southeast Asia's most powerful magnets for foreign direct investment.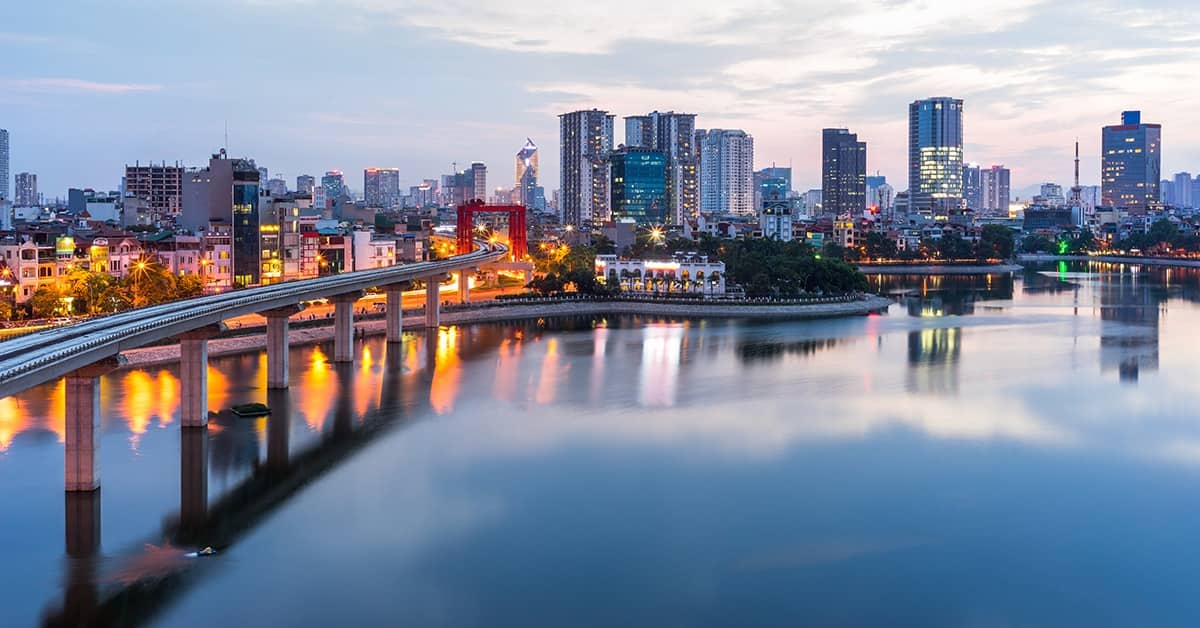 VITAL STATISTICS
Location: Southeast Asia
Neighbors: Laos, Cambodia, China
Capital city: Hanoi
Population (2023): 98,955,793
Official language: Vietnamese (official), English increasingly favored as a second language
GDP per capita 2021 (expected): $10,600
GDP growth (2022): 8.0%
Inflation (2023): 5%
Currency: Vietnamese Dong
Investment promotion agency: Ministry of Planning and Investment
Available investment incentives:  Tax holidays in investment zones and for eligible green investments, tax incentives and discounts for individuals and entities invested in selected economic zones
PROS
Variety of investment incentives
Economy growing rapidly and expected to continue to grow
Population growing at 1% per year provides large pool of potential consumers and growing middle class
Abundant resources: resource-rich country, abundant labor, land, and natural resources
Strategic location: good base for businesses to expand into region next door to China
Signatory to numerous FTAs, including Comprehensive and Progressive Agreement for Trans-Pacific Partnership (CPTPP) and Vietnam-EU Free Trade Agreement (EVFTA). Will further open market to foreign investors
Recent improvement in US relations and trade agreement
CONS
Cumbersome bureaucracy
Business licenses slow
Undereveloped infrastructure
Poor relations with China
High level of corruption
Sources: Association of South East Asian Nations (ASEAN), CIA World Factbook, Fitch Solutions, International Monetary Fund, Reuters, Moody's Investors Service, Transparency International, US State Department, World Bank, World Population Review
For more information, check out Global Finance's Vietnam Economic Report data page.
Vietnam enjoys a wealth of the features that foreign capital has come to love. In an aging world, it boasts almost uniquely favourable demographics, as 40% of its population of 100 million are under 25. It has a 1,300-kilometer land border with China, and therefore direct access to that market of 1.2 billion consumers; low wage costs; and a large, well-educated labor force. Its manufacturing base, meanwhile, benefits from the problems of its neighbor to the north, and through its membership in ASEAN, it has tariff-free access to 800 million more people across Southeast Asia.
Outside investors are getting the message.
"The 2023 outlook for the business environment in Vietnam shows promising signs of improvement," says Thierry Mermet, CEO of Source Of Asia (SOA), a consultant to companies looking for business opportunities in Vietnam and ASEAN. "The capital from foreign direct investments reached around $10 billion [over Q1 of 2023], showing a rise of 0.5% compared to the same period last year." SOA projects the pattern to continue. "Our projections for the next quarter are looking just as positive. Companies are actually expecting similar levels of foreign direct investment to keep coming in."
Longer term, he says, "Vietnam is really cementing its position as one of the top three places where European business leaders want to invest." According to the Business Confidence Index report from EuroCham, he notes, "3% more leaders have picked Vietnam as one of their top three investment choices. It's a solid indicator that we're on the right track."
Ninety countries have invested in Vietnam in the first half of this year; the top five are Asian countries, with South Korea in first place, accounting for $81 billion and Singapore second with $72 billion. Japan follows in third position with nearly $70 billion committed. Notably, while the US trails in seventh position with investment capital of $USBN, it is also Vietnam's first key export partner, accounting for almost $110 billion in 2022.
"Thomson Medical Group is one of the largest Singaporean private providers of health care services for women and children, and is set to buy FV Hospital [in Ho Chi Minh City] in what's being called the biggest health care deal in Vietnam," says Mermet. Valued at $381 million, the deal not only opens up a market presence in Vietnam for Thomson but positions the country "to leverage growing medical tourism opportunities from our neighboring countries."
Another indicator of Vietnam's pull is homegrown electric vehicle manufacturer VinFast, which recently became the world's third-largest automaker by market capitalization, behind Tesla and Toyota.
"With shares surging 20%, VinFast's valuation hit an impressive $191.2 billion," notes Barry Elliott, vice president of Tomkins Ventures and a supply chain guru long active in Vietnam. "This not only signals a promising future for the EV industry in Southeast Asia in general, but also exemplifies Vietnam's emerging prowess in manufacturing." VinFast now has plans to establish a plant in North Carolina.
Benefiting From The US-China Trade War
Vietnam is also benefiting from the fallout of the US-China trade war, as higher US tariffs on a wide range of Chinese exports drive companies to switch their manufacture of exports away from China toward alternative hubs in Asia.
"This trend has been further reinforced by the Covid-19 pandemic," says Elliott, "as protracted disruptions created turmoil in global supply chains for many industries, including automobiles and electronics." The Japanese government nudged the trend along in 2020 by introducing a subsidy program for Japanese companies relocating production out of China, either back to Japan or to certain other designated countries.
"Since 2020, Vietnam has been one of the preferred destinations for Japanese firms choosing to shift their production to the ASEAN region in the first round of subsidy allocations," Elliott notes. "This trend continues."
The US, meanwhile, is boosting its economic and technical ties with Vietnam as Beijing grows more assertive in the region.
The recently disclosed establishment of a "comprehensive strategic partnership" give the US a diplomatic status that Vietnam has so far reserved for only a handful of other countries: China, Russia, India, and South Korea. The move was confirmed by a senior Biden administration official and two people in Hanoi familiar with the matter.
The deal, expected to be announced officially during President Biden's state visit to Vietnam in September, is the latest step by his administration to deepen relations in Asia. For Hanoi, the closer relationship with Washington provides a critical counterweight to Beijing's influence.
"This shows that Hanoi is willing to risk angering Beijing but sees the move toward Washington as necessary, given how aggressively China is flexing its military muscle in the region," says Derek Grossman, senior defense analyst at the Rand Corporation. "If you have the US on the same pedestal as China, that is saying a lot to Beijing, but also to the rest of the region and to the world. That's saying the US-Vietnam relationship has come a long way since 1995," when the two countries normalized relations.
On a recent trip to Ho Chi Minh City, Jacqueline Poh, managing director of Singapore's Economic Development Board (ED,B) met with startups in financial services, robotics, and renewables. She noted the great influence of a returning diaspora with deep experience abroad, tagged approvingly by the Vietnamese as "sea turtles."
"All have a can-do spirit, support for each other, and gumption," says Poh. "This heady mix has created a conducive local startup ecosystem."
Poh also cited the growth of the Vietnam-Singapore Industrial Parks (VSIPs), the first of which were established in 1996 and now number 17 across 10 locations "The existing 14 VSIPs have garnered $18.7 billion in investment so far and have created 300,000 jobs in Vietnam," she notes.
Incentives driving the rise in foreign direct investing, says Carsten Ley, founder and managing director of Asia PMO, which advises companies on operations in Vietnam, is a "China plus one" risk mitigation model aimed at forestalling on China by building redundancy in at least one other regional center. As a case in point, Ley cites Apple, which recently moved iPod production from China to Ho Chi Minh City, where most manufacturing is located. "Many Korean companies are also investing," he says: "Samsung, LG on the IT side. Lego just opened a huge factory outside Ho Chi Minh."
As this suggests, Vietnam is now moving up the value chain from shoes and garments toward high tech, including Vietnamese fintechs such as payment providers Momo, ZaloPay, and VNPay, and foreign startups.
"As a consequence of this and other factors," says Ley, "a rapid growth in capital expenditure is expected, reflecting continued strong foreign direct investment by multinationals as well as domestic infrastructure spending."Given the volume of large-investor interest, it's no surprise that venture capital is becoming a presence in Vietnam as well. My Tran, principal of local VC investor Jungle Ventures, previously spent a year and a half at VinaCapital Ventures, which is the country's largest local VC firm and now focuses on pre-A and A-stage investments.
Now based in Ho Chi Minh City—her firm "it's called Jungle Ventures because we invest very diversely in emerging markets"—My focuses on industries including technology in Southeast Asia and India. Jungle Ventures' five current investments in Vietnam include Kiotviet, a maker of POS/store management software; Edupia, the country's largest on-line education company with over 500,000 student subscribers; Medici, an insurance and health care provider; Timo, a digital bank; and Dat Bike, the biggest electric bike manufacturer in South Asia.
VC funds in Vietnam are sourced from all over the world, My notes, with a growing interest from the west, including the US. Yet she acknowledges two main challenges.
"The regulatory framework, especially for financial services, is complex," she says. "There are foreign ownership limits. But it is possible to invest in insurance, for example, up to limits."
The second challenge is language and communication; Vietnamese over age 40 did not learn English in school, although it is now taught to all.
These issues notwithstanding, My remains confident. "The best is yet to come," she says.