COUNTRY REPORT / PORTUGAL
Increased competition from new entrants to the European Union has dealt a severe blow to Portugal's economy. Tourism and investment in renewable energy are helping it pick up the slack.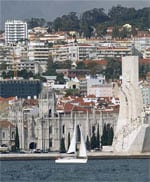 Calm before the storm: Portugal's economy is heading into some potentially difficult headwinds.
Portugal's economic and business climate do not exactly provide businesses and investors with clear sailing these days. This nation of 10.6 million people faces significant challenges, including soft GDP growth, a weakening economy in neighboring Spain and high government budget and current account deficits.
However, Portugal is making significant progress on several fronts, including structural reforms and growth in its export and tourism sectors. And investors are finding major opportunities in areas such as renewable energy.
In the first quarter of 2008, Portugal's GDP grew 0.9% on a year-over-year basis but actually declined 0.2% on a quarter-on-quarter comparison, according to a June 9 report from Portugal's Instituto Nacional de Estatistica (INE). These numbers represented a deceleration from 1.8% annual growth and 0.7% quarter-over-quarter growth posted in the fourth quarter of 2007. The INE cited the continued slowing growth in exports seen in the past three quarters after a previous export-led economic resurgence in the nation.
Portugal's latest GDP numbers lagged well behind first-quarter economic growth in the 15-country eurozone, where GDP increased 2.2% over the year-earlier period and rose 0.8% from the previous quarter, according to Eurostat, the European Union's statistical agency. In the 27-member-state EU, GDP grew 2.5% from a year ago and 0.8% from the last quarter.
Portugal has lost ground relative to the rest of the EU since 2002. Portugal's per capita GDP dropped from 80% of the then EU-25 average in 2001 to 71% in 2006, causing the country to drop three places to 18th in purchasing power parity, behind Greece, the Czech Republic and Slovenia, according to GlobalEDGE, a global business-information web portal created by the International Business Center at Michigan State University. "EU expansion into eastern Europe has erased Portugal's historic competitive advantage and relative low labor costs," according to GlobalEDGE.
As they found lower-cost options, businesses often reduced or eliminated operations in Portugal. About 25% of recorded job losses in Portugal resulted from offshoring of jobs, according to the European Restructuring Monitor research report from Dublin, Ireland–based Eurofound, an EU agency formally known as the European Foundation for the Improvement of Living and Working Conditions.

The Portuguese government has lowered its forecast for GDP growth in 2008 to 1.5% from 2.2% earlier. Finance minister Fernando Teixeira dos Santos has publicly stated major concerns about the slowing economy of Portugal's main trading partner Spain and about the European Central Bank's recent talk that it may hike interest rates soon. Rate hikes would crimp domestic spending and GDP growth, as Portugal's consumers carry relatively high average household debt.
Portugal's stock market has also suffered as the economy has shifted into a lower gear. The NYSE Euronext Lisbon market's flagship PSI 20 index tumbled by nearly a quarter from about 13,500 in mid-July 2007 to about 10,200 in early June 2008.
Opportunities Remain
Despite the recent economic storm clouds, Portugal does present business opportunities and growth in certain sectors. Tourism is playing an increasing role in the Portuguese economy, with very strong growth generated in the past two years. Tourist expenditures for consumption of products and services jumped 11.4% in 2007 and 9.4% in 2006, according to INE. The value-added generated by tourism rose by 9.4% and 9.7%, respectively, the past two years. Increased tourism receipts are helping moderate Portugal's high current account deficit, which reached 9.8% in 2007 but is expected to fall over the next several years.
The president of Turismo de Portugal (Portuguese National Tourist Office), Luís Patrão, predicts a 5.8% increase in visitors and 9.2% increase in tourism revenues each year through 2015. He said the country has generated more than a 20% increase in hotel guests during the first quarter of 2008.
To boost tourism further, the sun-splashed country is spotlighting one of its other fast-growing industries, renewable energy. Turismo de Portugal's new tourism promotional campaign pitches the nation as "home of the biggest solar plant in the world" and "the fastest growing European country in wind energy."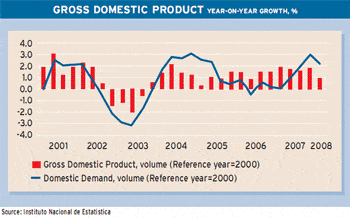 Portugal is actively embracing renewable energy and is already among Europe's leaders in the field. The nation has set a goal to produce about 30% of its energy from renewable sources—solar, wind, wave and hydropower—by 2020. That's up from about 20% now.
Portuguese EDP Renováveis (EDPR), the renewable-energy subsidiary of Energias de Portugal (EDP) and one of the world's largest and fastest-growing wind-energy companies, completed its global IPO and listing on the NYSE Euronext Lisbon market in early June.
EDPR says it was ranked fourth in the world based on net wind installed capacity at the end of 2007, after growing it 168% in the past year. EDPR aims to triple its installed capacity to more than 10.5 gigawatts by 2012. The company owns and operates wind farms in Spain, Portugal, France and the US.
"Renewables in general will be valued … even more in the future since the fuel costs are growing," Ana Maria Fernandes, EDPR's CEO said in a video interview. "Worries about energy security are growing. It all indicates that in time this sector tends to be more and more valued. So we just have to manage the opportunities." EDPR raised almost E1.6 billion in the share offering.
Despite the challenging environment, Portugal is still attracting inward investment. One company that has recently chosen to set up operations in Portugal is Chiltern International, a contract-research firm based in Slough, UK, which specializes in conducting clinical trials. The 26-year-old global company found Portugal an attractive growth market.
"Chiltern has been conducting international clinical trials that involve Portugal for many years now. We have seen a steady rise in the amount of business we have been winning in the region, and our forecasts predict further growth," says Richard Baptista, Chiltern's director of budgeting and proposals. "Therefore, we felt that the time was right to open the Lisbon office."
Chiltern employs more than 1,200 people with over 20 offices across Europe, the US and in India. The Lisbon office initially employs seven, "but we are growing all of the time," says Baptista. Portugal's government has to be hoping its country's economy will follow suit.
Adam Rombel