RIDING THE WAVE
By Justin Keay
Turkey's economy has performed quite well, but reform is needed at home to build sustainable growth.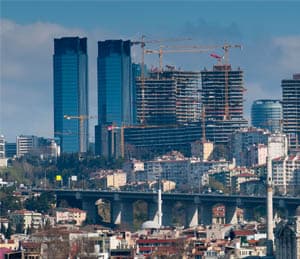 Early August saw unprecedented turbulence on global financial markets, and Turkey's was no exception. On one day alone—Monday, August 8—the Istanbul Stock Exchange lost 7% of its value. Over five days in early August the benchmark ISE National 100 Index dropped 19%—below the psychologically significant 50,000 level.
Currency markets told a similar story: the Turkish lira has declined against the US dollar and the euro, and over 2011 it has been one of the worst-performing global currencies. But unlike markets in the US and Europe—which continue to be rattled by concerns about the eurozone, debt exposures and global economic recovery—Turkey's markets have been unsettled by growing awareness of problems in its own backyard.
"We see that Turkey's economy is totally sound. It is sound and strong like a rock. There is no problem," economy minister Zafer Çalayan told reporters in early August. Indeed, there really shouldn't be a problem. On June 12 the government of Recep Tayyip Erdoan won reelection for an unprecedented third term, with the prime minister now on course to be Turkey's longest-serving leader since founder Kemal Ataturk.
According to observers, the election gave the government a strong mandate but not so much power that it could push through, unilaterally, changes to the constitution that would give the government more power—which is a real concern, given the weakness of other political entities.
Reinvigorating Trade
Huge changes have been wrought in Turkey's economy and the national mood. In the nine years since the governing AKP party first assumed power, GDP has risen at an average annual rate of 8%-9%, and per capita income has enjoyed equally impressive gains. A country once dubbed the sick man of Europe—or the Near East, depending on your geopolitical views—is now the main player in its neighborhood, having reinvigorated trade, economic and cultural links with those countries that once constituted the Ottoman Empire.
Unlike in most other economies, unemployment in Turkey continues to fall: Figures for May show a 1.6% drop to 9.4%, compared with May 2010, although the income gap is also widening between rich and poor, with those living in the Kurdish southeast likely to be much worse off than elsewhere.
This new sense of confidence was very apparent during the election campaign, with virtually no reflection on Ankara's stalled negotiations to join the EU—nixed by the apparently insoluble Cyprus problem, as well as French and German opposition—and much reflection on the country's, and its government's, new sense of destiny.
Among Erdoan's many promises were ambitious infrastructure plans, including a new canal to take shipping away from the busy lanes of the Bosporus, and a new metro system for Ankara.
"Am I confident about Turkey? Over a 10-year horizon, very much so. The potential is huge and the demographics are good"
"However, the next two years are a very different story" – Neil Shearing, Capital Economics
Meanwhile, Turkish consumers have never had it so good. New shopping centers seem to open every week to cater to the growing middle class, offering everything from imported designer clothing to widescreen TVs and helping reduce the already low savings ratios—around 12%. If there is a fly in the ointment, it may be that Turkey needs around a 22% consumer savings ratio to fund development.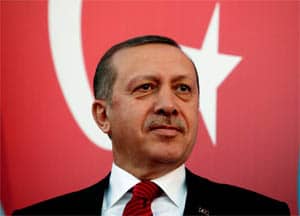 President Erdoan promises ambitious new infrastructure developments
Investor Concerns
Increasingly, though, international investors seem unconvinced on the short-term outlook for the country. "Am I confident about Turkey? Over a 10-year horizon, very much so. The potential is huge and the demographics are good. However, the next two years are a very different story," says Neil Shearing, emerging markets analyst at London consultancy Capital Economics.
Shearing is increasingly concerned about what he and others view as the unsustainable rate of growth. GDP grew 8.9% last year and 11% in the first quarter this year, buoyed by domestic demand.
Some steps have already been taken to rein it in to a more sustainable level, including efforts to reduce loan growth, which is currently running at around 35%. But because Turkey's GDP expansion is largely financed by foreign money inflows—rather than domestic money or even long-term foreign direct investment—it has had a considerable, and equally unsustainable, impact on the current account deficit. It is now running at 9% and expected to be between 8% and 10% for the year.
"With the domestic economy showing no signs of slowing, the current account [deficit] remains the biggest problem," says Shearing, who expects GDP to rise 6.5% over this year before settling into a long-term annual growth trend of 4%–5%. He was baffled by the decision of the central bank in August to lower interest rates by 50 basis points to a record low of 5.75% while raising the overnight borrowing rate 350 basis points to 5%.
The aim was to prevent too rapid a slowdown in the Turkish economy and the continuing deterioration of the lira by making it more attractive to hold. But Shearing thinks this is a risky strategy that could well exacerbate the two core problems of overdependence on foreign "hot" money and the inflated current account deficit.
Others are more sanguine, however. Charles Robertson, global strategist at Renaissance Capital, believes the central bank acted out of a very real concern that the risks for Turkey of a double-dip global recession were too great to be ignored, particularly given the current uncertainties afflicting its biggest trading partner, the EU.
"The Turkish authorities moved very quickly in response to deteriorating world conditions"
"So much so that they changed my view from negative to positive" – Charles Robertson, Renaissance Capital
"The Turkish authorities moved very quickly in response to deteriorating world conditions, so much so that they changed my view from negative to positive," he says, adding that the knock-on effect for Turkey could be a decline in growth to as low as 2%.
"The government clearly understands that structural reforms have to be taken to bring down Turkey's current account deficit," agrees Tolga Egemen, executive vice president of financial institutions and corporate banking at Garanti Bank. "The proactive actions of the bank and the banking regulator along with strong policies to support the economy will keep the deficit issue manageable."
Riding Out the Crisis
Other business sectors are also confident that Turkey will ride out the crisis. Süreyya Ciliv, CEO of telecoms company Turkcell, points to the country's success in emerging from the 2008 recession—when it turned the crisis into an opportunity that resulted in strong growth last year—and says the core fundamentals remain good. "The economy has come very close to overheating, but as it slows, the overheating debate should come to an end," Ciliv says. "The budget [deficit] is under control, and with further measures, the widening in the current account deficit should be controlled."
What is clear, however, is that Turkey needs to do more to generate domestic savings to fund its own development and growth and reduce dependence on external financing. There should be some good opportunities for the banks here. Following a 2001 bank crisis, Turkey instituted a series of reforms that included public spending cuts and large-scale bank reforms to improve bank governance and strengthen bank capitalization. Since then, Turkey's 45 banks—down from around 80 pre-crisis—are well capitalized, with ratios typically around 20%.
They are also very profitable. Akbank, for example, posted net profits of 1.4 billion Turkish lira ($790 million) in the first half of 2011 and had a non-performing loan ratio of just 2.2% at year-end 2010.
With mortgages and other Western financial products still in their relative infancy, banks are only now starting to look seriously at ways of boosting domestic consumer savings.
Akbank recently launched a Cumulative Deposit account, which, it says, "encourages customers to save while alleviating adoption of savings discipline." Other banks seem likely to follow with similar accounts.
"The main challenge will be maintaining profitability in a decreasing-margin environment. The decisions to increase reserve requirement rates and slow down loan growth will further diminish margins," says Garanti's Egeman.
Another priority is to further improve the business environment. Turkcell's Ciliv points to taxes that he says are way too high and are hampering companies in his industry. However, steps could also be taken to make it easier to establish a business and to reduce bureaucracy.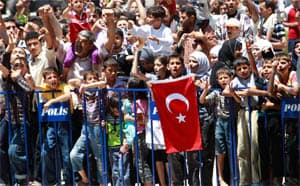 Trade with Syria has collapsed, and increasing numbers of refugees are crossing into Turkey
Diverted Attention
There are fears, though, that the government will find its attention diverted. Ongoing changes in the Middle East have unsettled Erdoan's neo-Ottoman foreign policy, and there are particular concerns regarding Syria: President Bashar al-Assad's violent crackdown has led to a collapse in trade and an increase in refugees pouring over the Turkish border.
Erdoan's desire to change the constitution when parliament reconvenes in October—something he has declared as his most pressing priority—could also distract from economic reforms.
"The anticipated preparation of a new constitution has the potential to create significant political uncertainty, as it may well raise profound and controversial issues related to the division of power, secularism, religion, nationalism and ethnic minority rights," argues Ed Parker, Fitch'shead of EMEA sovereign ratings. He says that Turkey's challenge remains securing sustainable growth consistent with macroeconomic stability.
"The… preparation of a new constitution [could] create significant political uncertainty"
"It may well raise… issues [on] the division of power" – Ed Parker, Fitch Ratings
As Turkey's global partners face a worsening economic outlook and growth slows from the dramatic and unexpected heights it touched last year, the dangers for what is now the world's 16th-largest economy are clear. The authorities will have to work hard for an orderly reduction in the external deficit and a manageable exchange rate, if Turkey's economy is to retain its still- considerable shine.