Includes Azerbaijan real Gross Domestic Product growth rate, with latest forecasts and historical data, GDP per capita, GDP composition and breakdown by sector.
Data sets offering a full view of Azerbaijan's economy, international trade and finance sector. With links to rankings of the country's best and safest banks. Updated October 2023
Azerbaijan GDP Grounded in Hydrocarbons
In the heart of Eurasia, Azerbaijan's economy is predominantly fueled by its petroleum and natural gas industries, which account for over 90% of its export revenue and about half of the state budget. Despite the dominance of the hydrocarbon sector, Azerbaijan has been making efforts to diversify its economy, moving towards a greener and more sustainable model, investing in agriculture and tourism, and promoting information technology and logistics activities.
Strategically placed along the Middle Corridor between the East and the West, after Russia invaded Ukraine Azerbaijan became an increasingly attractive trade route. Challenges include an underdeveloped banking system, lack of transparency and geopolitical risks.
Azerbaijan GDP & Economic Overview
Macroeconomy & Sovereign Data
| | |
| --- | --- |
| Total Area | 86,600 sq km |
| Type of Government | Presidential Republic |
| Capital | Baku (Baki, Baky) |
| Total Population | 10.4 million |
| Median Age | 32.5 |
| Total GDP | USD 41.6 billion |
| Adult Per Capita GDP (PPP) | USD 20,467 |
Click here to find out our pick for the Best Bank in Azerbaijan
Banking & Sovereign Finance
Central Bank
The Central Bank of the Republic of Azerbaijan


Currency
Azerbaijani manats (AZN)


International Reserves
USD 11.3 billion
Sovereign Ratings
S&P BB+
Moody's Ba1
Fitch BB+
See Global Finance's evaluations of Gov. Kazimov and his peers in this year's Central Banker Report Cards – Asia.
Foreign Direct Investment
Central Bank Leadership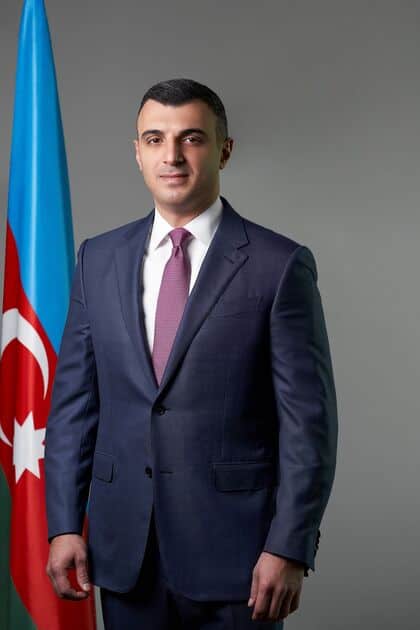 Governor Taleh Kazimov, head of the Central Bank of the Republic of Azerbaijan, talks to Global Finance about central banking, monetary policy, rising energy prices and more. Click HERE
Total Exports
USD 12 billion
Leading Exports
Crude Petroleum
Natural Gas
Refined Petroleum
Cotton
Gold
Major Trade Partners – Export
Italy
Turkey
Russian Federation
Israel
Croatia
Total Imports
USD 41.6 billion
Leading Imports
Gold
Cars
Refined Petroleum
Wheat
Packaged Medical Supplies
Major Trade Partners – Import
Russian Federation
Turkey
China
Germany
Ukraine
Azerbaijan GDP carries a low debt load
The chart at right shows Azerbaijan's debt load–the ratio of its debt to productive capacity–is among the lowest in Asia. Yet Singapore, which carries a debt at 134% of GDP, is among the world's wealthiest nations. Azerbaijan's wealth puts it roughly in the middle of the global pack–#92 in purchasing parity wealth globally.
Azerbaijan's Leading Companies
Energy
SOCAR – State Oil Co.of Azerbaijan
Transportation
Azerbaijani Airlines
Telecom
Azercell
Diversified
Pasha Holding
AtaHolding
Finance
International Bank of Azerbaijan
Global Finance Rankings & Awards: Asia
Global Finance Magazine awards recognize excellence in finance throughout the year, naming the world's best in a range of categories including Trade Finance, Investment Banking, Treasury & Cash Management, Innovation, Sustainable Finance and more.
---
Data Sources:
IMF World Economic Outlook
UN World Population Prospects
World Inequality Report
S&P Global Ratings
Moody's
Fitch Ratings
IMF Direction of Trade Statistics (DOTS)
UN Conference on Trade and Development (UNCTAD)
CIA The World Factbook
World Bank's World Integrated Trade Solution
Forbes Global 2000