Feras Milhem, governor of the Palestine Monetary Authority, shares the bank's mission, unique conditions, and place in the global financial system.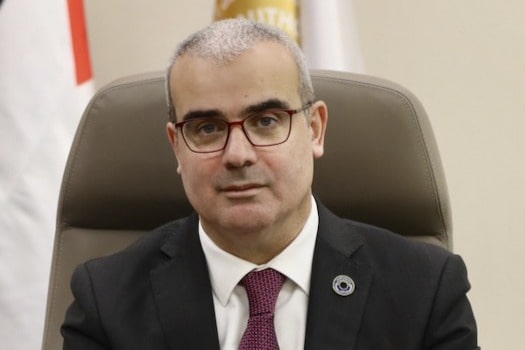 Global Finance: The Palestine Monetary Authority was created in 1994; what is its primary mission?
Feras Milhem: The PMA is an independent public institution with a mission to serve as the Central Bank of Palestine. Its primary missions are to maintain price stability, supervise banks and financial institutions, oversee payment systems and promote financial inclusion and overall economic development.
The Palestinian economy is a small free-market system led by the private sector. We face several challenges due to decades of Israeli occupation, like trade restrictions and constraints on the movement of goods and people. Today, the Palestinian economy is characterized by a high unemployment rate, heavy reliance on remittances and foreign aid, and substantial disparities between the West Bank and Gaza.
GF: How is central banking done in that specific context?
Milhem: Central banking in Palestine is unique, given that the PMA does not issue nor manage a national currency. Three foreign currencies are in circulation: the Israeli shekel, the US dollar, and the Jordanian dinar. The absence of a national currency leaves the PMA unable to control money demand or use standard monetary tools like interest rates to stimulate economic activity. The PMA also lacks the flexibility to adjust the exchange rate to absorb internal and external economic shocks. Therefore, our economy is subject to external monetary factors such as US and Israeli monetary decisions on interest rates and currency exchange policies.
That being said, the PMA's pivotal mission is to regulate, supervise and strengthen the banking system so it can sustain shocks. Furthermore, we established a deposit insurance corporation and regulated specialized lending institutions like money changers and e-payment service providers. This has allowed risk mitigation and facilitated the provision of essential lending to sustain public service.
GF: What is the position of Palestinian banks in today's international financial system?
Milhem: The Palestinian banking sector comprises thirteen banks spread across the West Bank and Gaza—seven local banks, five Jordanian banks and one Egyptian. As of July 2023, the sector's total assets reached $21.8 billion. It is well capitalized and enjoys abundant liquidity and profitability. Banks also have great flexibility, allowing them to navigate risks and crises. Much of this resilience can be attributed to the balanced policies of the PMA and its prudent regulations, in line with the highest global standards and practices.
Banks were pivotal in injecting liquidity into the Palestinian economy to support infrastructure projects, digital transformation programs, clean energy, and green initiatives for $11.4 billion. These investments make up 53% of banking assets or 68% of customer deposits and are crucial to economic growth. It is important to note that the default rate is less than 4% of the total credit portfolio, one of the lowest in the Middle East. To safeguard against nonperforming loans, banks have prudently increased provisions to cover nearly 56% of NPLs. The banking sector also has a capital adequacy ratio of around 16.2%, surpassing PMA and Basel III regulatory requirements.
GF: What challenges have you faced in making policy choices?
Milhem: The Palestinian economic landscape is characterized by a high level of risk. Despite the efforts made by the PMA to mitigate these risks and empower the banking sector, several challenges remain. We must build capacity and maintain the PMA's independence amid challenging fiscal crises. The unprecedented speed and level of interest rate increases is a great challenge and one where we have no room to maneuver. External challenges stem from the Israeli occupation, like the accumulation of Israeli shekels in the Palestinian banking sector, correspondent banking relations with Israeli banks or the lack of control over borders and movement of funds.
GF: How do you see the future of Palestinian banking?
Milhem: Although we live in high uncertainty, the Palestinian banking sector is well capitalized and enjoys sound financial indicators. Our mission moving forward is to maintain this momentum. Also, as we gaze into the horizon of the financial world, the PMA cannot help but acknowledge the profound impact of technology. We have been proactive in embracing and promoting digital transformation. The PMA has adopted several regulatory initiatives for e-payments, financial inclusion and fintechs like e-payment service providers and e-wallet companies. The PMA is now working on a centralized platform connecting all payment service providers with private sector billers and government payments to enable citizens to fulfill their financial obligations effortlessly, anytime and anywhere. In parallel, the PMA aims to bolster competitiveness in the banking sector by opening doors to microfinance and digital banks.