LATIN AMERICA
Once considered relatively immune to the global economic slump, Latin America is facing hard times as commodity prices crumble, trade dwindles and Venezuela's oil-funded regional largess begins to dry up.
On a roller coaster ride: Wild swings in commodity prices are undermining the economic strategies of leftist leaders such as Hugo Chávez, Evo Morales and Luiz Inácio Lula da Silva.
For the past few years, Venezuela has been the envy of many Latin American governments as the country filled its coffers with petrodollars from an oil sector windfall. Yet, with oil prices down by some 75% since their peak last July, Venezuelan president Hugo Chávez will have a difficult time funding the spread of his "Bolivarian revolution" throughout the region, leaving political allies, also feeling the pain of falling commodity prices, to fend for themselves. The situation, combined with the impact of the global economic downturn, puts Latin America at a significant crossroads.
Oil accounts for 94% of Venezuelan export revenues—compared with 68% before Chávez took office a decade ago. As a result, oil prices represent a major factor in determining economic growth. With Chávez using much of the recent windfall to fund what he calls his "21st century socialism," falling oil prices will make 2009 particularly difficult for his social programs. Oil contributes almost 50% of Venezuela's federal budget, which contemplates a 22% spending increase for this year, but was premised on prices being at $60 a barrel instead of the current price closer to $35. The price had been as high as $147 a barrel last year.
Chávez says social spending will not be jeopardized, though he has warned that the country will need to tighten its belt. With the administration still needing to maintain political support at home, many of the cuts will probably be seen on the international front. Chávez currently sells subsidized diesel to Bolivia, where he also helps fund social programs led by president Evo Morales, a close political ally. He also provides Cuban president Raul Castro with an economic lifeline by supplying the cash-strapped island with 100,000 barrels of oil per day. And under the Petrocaribe program, Venezuela sells oil to Central American and Caribbean nations at subsidized prices and on preferential terms, including stretching payments over 25 years.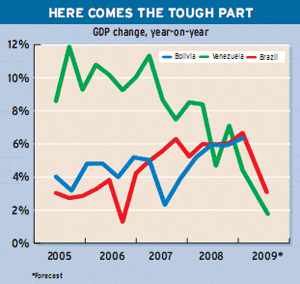 When Argentina shut itself out of international capital markets after its record $100 billion debt default in 2001, Chávez stepped in to purchase all new Argentine bond issues, becoming the country's only major source of external financing. The government offered to finance the construction of planned oil refineries in Ecuador and Nicaragua, two other key allies. Chávez went so far as to provide cut-price heating oil for poor families in New York City and to subsidize public transportation in London.
Funds for Venezuela's unprecedented generosity have been drawn from the government's move to tap revenues from the PDVSA state-owned oil company and dipping into foreign reserves. Under a 2005 reform, the central bank must turn over "excess reserves" to the government each year for discretionary spending. When the government in January transferred $12.5 billion in international reserves to the Fonden state development fund, Fitch Ratings warned that the move weakened the country's economic position by lowering reserves by 30%, to $29.5 billion.
Generosity Comes at a Price
"Over the past few years under the Chávez administration fiscal discipline has gone by the wayside, exacerbated by the use of oil-driven revenue to foment political ideology," says Francisco Gonzalez, director of the international services group at the law firm of Adorno & Yoss in Miami, which advised previous Venezuelan and Bolivian administrations on privatization policies. Gonzalez argues that for the past 75 years Venezuela has failed to curb its "severe dependency on oil revenue" and has also become overly dependent on imported goods. Imports are partly blamed for the country's 30.9% inflation rate, which remains the region's highest.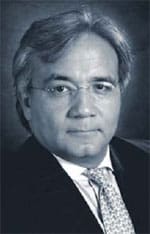 Gonzalez: Venezuela's government has been using oil revenues as petty cash.
"Spending by PDVSA domestically continues to be an important destination for oil revenues, as the company is the largest employer and the largest buyer of goods and services," comments Gonzalez. "The problem is that now public sector and PDVSA spending have become one and the same, and PDVSA has become the government's petty cash." PDVSA currently owes suppliers nearly $8 billion.
Eliot Kalter, senior fellow at The Center for Emerging Market Enterprises at the Fletcher School at Tufts University in Medford Massachusetts, says the lack of diversification poses a problem for Venezuela. "International advisers have for years advised the Venezuelan government to diversify out of its reliance on the oil sector for exports and government revenues. However, this advice has not been taken," he adds, "and the non-oil sector has declined in importance, both as a source for government revenues and employment. 'Dutch disease' [caused by a rapid growth in resource industries that crimps growth in other industries] has reduced the competitiveness of Venezuela's non-export sector as well as its structural ability to recover."
Venezuela's economic growth was already halved from 8.4% in 2007 to 4.8% in 2008. The government predicts 6% growth for this year, though the United Nations' Economic Commission for Latin America and the Caribbean (ECLAC) predicts it will be only 3%. With OPEC mandating further output reductions, some analysts say 2009 growth could fall to a meager 1%.
Despite the gloomy outlook, Chávez supporters contend the leftist president prompted a recovery from the economic recession he inherited in 1999, while cutting poverty levels by half, subsidizing food prices for the poor, providing free healthcare and education, extending pension benefits to more retirees and cutting infant mortality from 21.4 per 1,000 live births in 1998 to 13.7 in 2007. Venezuela's finance minister, Ali Rodriguez, says the government reduced its public debt by $150 million last year to around $43 billion, or 13.5% of GDP.
Chávez's popularity rating, particularly among the nation's poorest sectors, remains high despite mixed signals from Caracas. Many took to the streets in February to commemorate the 10th anniversary of Chávez's inauguration. It didn't hurt that the government declared it a national holiday and that business owners who opened for business were threatened with fines. And in mid-February presidential term limits were overturned by popular vote to allow Chávez to run for a third six-year term in 2012 (and perhaps additional terms after that). Unemployment has fallen to 6%, partly due to a significant growth in public sector payrolls, but street crime and corruption are on the rise. Venezuela ranked 158 out of 180 countries in Transparency International's corruption index last year, as government officials act with impunity and the judicial branch of government responds to the president's interests.
Leaders Adapt to New Realities
As Chávez's pockets become shallower, many of his political allies must decide how best to adapt to this new reality. Ecuador's president Rafael Correa has launched a partial debt default, while Argentine president Cristina Kirchner nationalized pension savings. Both actions are in keeping with Chávez's political rhetoric, but there are plenty in the region who are opposed to such policies. In recent years Latin America has become polarized, with hard-line leftists like Chávez on one end and right-wingers such as Colombian president Alvaro Uribe on the other. Brazil's president Luiz Inácio Lula da Silva remains in the middle with populist rhetoric but responsible fiscal policies.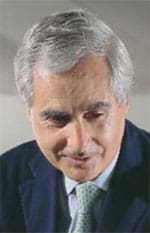 Pinto: Latin America may see a shift back from left-leaning policies.
As it comes under increasing economic pressure from global events, though, the region's political landscape could see some changes. "There is definitely a change in the balance of power, and this proves that populism is not the answer to sustainable economic development," asserts Jorge Pinto, a finance professor at Pace University's Lubin School of Business in New York and a former Mexican undersecretary of foreign relations. "Countries such as Bolivia, Ecuador, Nicaragua and Venezuela, which adopted very negative rhetoric against market forces, will have difficulty raising capital and attracting foreign investment," he says. Pinto predicts that the region will see the balance move back from the recent push to the left toward mixed or market-oriented economies that are less reliant on populism.
"We can now speak of a lost decade in Venezuela, and President Chávez is lucky that there's no senior leader challenging him and showing the Venezuelan people the enormous waste and corruption with which populism is always associated," adds Pinto, who feels Latin America as a whole still has political systems in place that allow presidents to become increasingly autocratic. Pinto feels there could be a shift in popular perception in Venezuela as the government becomes more frugal, shining a spotlight on how much of Venezuela's windfall has been spent abroad in the form of subsidies and donations.
The global economic impact was high on the agenda when members of the Bolivarian Alternative of the Americas (ALBA), a trade bloc created by Venezuela and Cuba in 2005 to rival the United States' proposed Free Trade Area of the Americas (FTAA), met for a summit in February. The group, comprising Bolivia, Nicaragua, Honduras, Dominica, Cuba and Venezuela—with Paraguay expressing interest—decided to create a regional food distribution company to tackle inflation. Venezuela has been experiencing food shortages for several years.
Region Seeks Shelter from Storm
Latin America as a whole is looking for ways to weather the storm unleashed by the global economic downturn, with several administrations announcing economic stimulus plans. Central banks in Brazil, Chile, Colombia and Peru have also cut bank reserve requirements to ease liquidity. ECLAC predicts the region's economy will grow by 1.9% this year, down from 4.6% in 2008 and 5.8% in 2007.
"Latin America will not be spared from the global economic slowdown in 2009," says Standard & Poor's 2009 economic outlook. "Deep recession in the industrialized countries, distress in the capital markets (both global and local) and the fall in commodity prices are set to depress growth across the region. Once-robust domestic demand won't be able to withstand these pressures, and slower growth in emerging Asia will further reduce external demand for the region," the report continues. The ratings agency still acknowledges the fact that the region is now better positioned to manage the challenges, with average gross internal debt (as a share of exports) at half of what it was in 2002 and net debt at almost one-tenth of 2002 levels. Debt servicing needs have been halved, and currency regimes are more flexible.
US president Barack Obama will be in high demand by his Latin American counterparts when he meets with them at next month's Summit of the Americas. The US economic recovery plan, foreign trade and immigration are expected to be on the agenda. The summit will also call for developing an energy cooperation strategy by 2011, in line with what Obama has called an "energy partnership for the Americas." With Obama's celebrity status, the shift in the balance of power may begin at the summit as leaders again look to the United States for answers, leaving Chávez to huddle with his allies.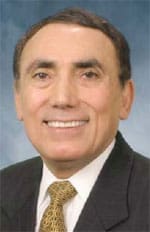 Ghadar: "Mexico's financial institutions are now better regulated".
MEXICO'S JOY TURNS TO ANXIETY
When US voters elected Barack Obama to the presidency last November, Mexicans were cheered by the president-elect's decision to meet Mexico's president Felipe Calderón even before Obama's inauguration. The meeting showed that Mexico would again shine brightly on the United States' foreign policy radar. However, with a Democrat-controlled Congress pushing for a renegotiation of the Nafta treaty and ongoing concerns over immigration issues, the enthusiasm soon turned to concern.
For former Mexican undersecretary for foreign relations Jorge Pinto, who is currently a finance professor at New York's Pace University Lubin School of Business, there is little chance that the trade pact will be renegotiated after all, despite the political rhetoric in Washington. "You can't renegotiate a treaty, but you can enhance it," he says. "The amount of trade based on certain rules cannot be renegotiated. That would be bad politics and not good economics."
Pinto feels that Nafta's side agreements may be renegotiated. "In order to renegotiate, you have to offer something—and the Mexican government has a list of areas they'd like to see improved within Nafta," he says. "Both countries need relatively open flows of labor, and if this is a serious effort to enhance economic relations between Mexico and the US, immigration has to be included [in the negotiations]."
With the US still accounting for some 80% of Mexican exports, what happens in Washington will have a direct impact on Mexican growth. The US economic recession, waning tourism, difficulty accessing credit and a fall in remittances from Mexican workers abroad are all spreading concern among Mexican public and private sector leaders. The United States' economic stimulus package's "Buy American" policies are also raising concerns over potential protectionist measures.
Standard & Poor's predicts Mexico's economy will contract by 0.5% this year, following a 1.5% expansion in 2008. The country's central bank is taking an even more bearish outlook. In January it said the nation's economy, which shrank by 1% during fourth-quarter 2008, could contract by between 0.8% and 1.8% in 2009. Some private sector analysts say falling oil prices and a prolonged US recession could prompt a 2% contraction.
Output by the Pemex state-owned oil company fell 9.2% year-on-year to 2.8 million barrels per day in 2008 from 3.1 million barrels per day in 2007, marking the largest annual drop in some five decades. The drop in production coincided with soaring oil prices, prompting the energy ministry to calculate lost revenues at $20 billion last year.
"External demand will likely take a hard hit given the tight correlation between the US and Mexican industrial sectors, the concentration [80% to 85%] of Mexico's exports to the US, the recession in Europe and lower tourism," says Standard & Poor's. "Furthermore, consumption is likely to suffer from the drop in remittances from Mexican workers in the US and tighter local credit conditions."
President Calderón has unveiled several economic stimulus measures but has chosen not to heed calls for tax cuts to spark growth. Instead, the government has raised infrastructure investments and lowered energy costs, including temporarily freezing fuel prices. Prospects of an economic contraction are also putting pressure on the peso, prompting the central bank to intervene to halt the currency's slippage against the US dollar. The peso has lost 32% of its value over the past six months.
"Mexico has not done that badly," says Fariborz Ghadar, director of Penn State University's Center for Global Business Studies and a former investment banker with the World Bank Group's International Finance Corporation. "Financial institutions are now better regulated, and if you see what's happening, it is the more financially secure Mexican companies that have been buying into the US." Ghadar says the fact that Mexico has not experienced a real estate or mortgage crisis will help it fare better.
Antonio Guerrero