Dear Reader
JANUARY 2015 | VOL. 29 NO. 1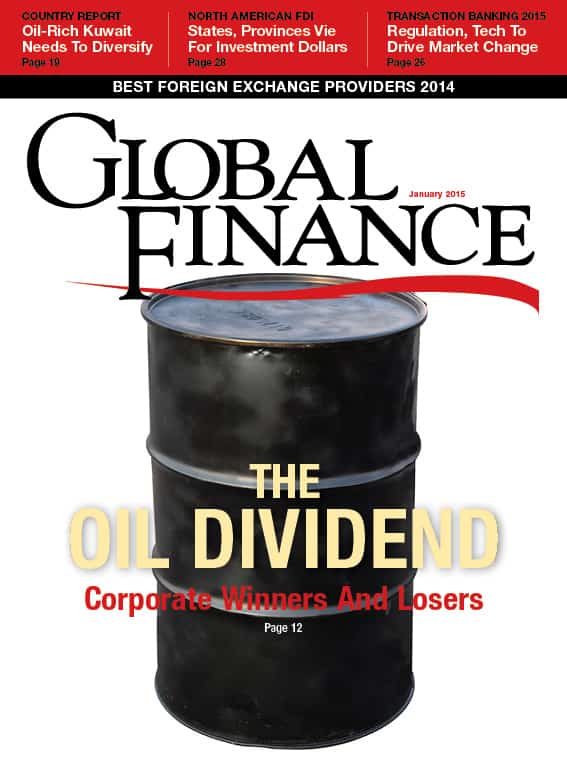 When we chose oil as the subject of this month's cover story, we had no idea how fast and dramatic the drop in oil prices would be (Brent oil prices dropped below $60 as we went to press.) Nor did the economists and the strategists that we contacted. In the last few weeks of the year it became much clearer that the change is affecting large economies like Russia very negatively. It is safe to say that in every corporate meeting at the end of the year the topic of oil was discussed, and the consequences for every company analyzed. Forecasts are not always accurate, but it is safe to say that plunging oil prices help importing nations and hurt producer nations. Janet Yellen, chair of the Fed, said the effect of the drop in oil prices is "a net positive" for the US but noted that the effects of lower oil prices could be 'transitory.' Yellen's statement came, moreover, the same day that US president Barack Obama announced a historic normalization of the relationship between the US and Cuba, after over 50 years of tensions.
Analysts and economists seem quite optimistic, particularly in New York, over the prospects for 2015. The optimism springs mainly from the increasingly buoyant US economy and the consequences of the expected raise of interest rates by the Federal Reserve during the new year. The dollar looks good to many, though some are skeptical about commodities and emerging markets. Europe and Japan, on the other hand, seem to be facing another year of slow growth and attempts at structural reforms while dealing with quantitative easing by their central banks.
Could this be the year of divergence? Alberto Ades, co-head of global economic research and head of GEMS fixed-income strategy at Bank of America Merrill Lynch, thinks so. He expects 2015 to be characterized by diverging monetary policies among the G4 (US, EU, Japan and UK), diverging economic growth, diverging oil price effects among emerging markets and diverging performances in currency markets.

Andrea Fiano | Editor
afiano@gfmag.com