NEWSMAKERS: UNITED STATES
By Luca Ventura
Sheila Bair is determined to turn up the heat on regulators and accelerate financial reforms.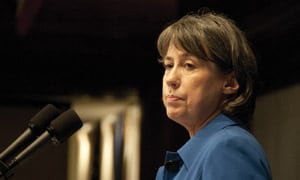 Bair: protecting the US economy from the next crisis
Photo Credit : ALBERT H. TEICH/ Shutterstock.com
In her latest effort to do so the former head of the Federal Deposit Insurance Corporation (FDIC) in June announced the launch of the Systemic Risk Council, a new, independent watchdog group whose key aims are to "monitor the activities of those with the congressional mandate to develop and implement Dodd-Frank provisions related to systemic risk." Advocating stronger control over banks' excessive risk-taking and ending the "too-big-to- fail" doctrine, Bair explained upon launch, will be the two most critical tasks of the council.
With worsening financial turmoil in Europe, JPMorgan Chase's $5.8 billion—and growing—trading loss and the additional curveball of ratings agency Moody's recent downgrade of numerous global banks, Bair's new crusade is well timed. "Not much has changed from 2008," Bair argued in a recent press engagement. According to law firm Davis Polk, as of June 2012, two years after president Barack Obama signed the Dodd-Frank financial reform bill, regulators missed 148 requirement deadlines out of 221, with just 73 resulting in finalized rules.
"Having an independent group focused upon systemic risk could be helpful," says Mark Calabria, director of financial regulation studies at policy think tank the Cato Institute, but he does not expect too much. "Policymakers ignored systemic risks before the crisis—I don't see that really changing," he says.
With the US Congress even more divided by the upcoming presidential election and banks lobbying against the implementation of key parts of the bill, Bair will face serious hurdles. But she has assembled an impressive team of regulators, academics and private-sector figures with close ties to Washington. Among them are Paul Volcker, ex-chairman of the Federal Reserve; and Paul O'Neill, Treasury secretary under George W. Bush.