UK's decision to leave the EU andGerman Chancellor Angela Merkel's dwindling strengthhave given Macron a chance to bolster French influence.
Nine months into his leadership, French President Emmanuel Macron, has proven to be an astute diplomat sending the message that his country is open for business.
At deadline, he was hosting 140 chief executives at Versailles on the eve of the World Economic Forum in Davos. The event provided a chance for Macron to tout his government's pro-business reforms and France's growing influence.
WEF's theme this year is "creating a shared future in a fractured world," which likely resonates with the leader who spent most of the past year working on France's more strained relations with China, Russia, the UK and the US.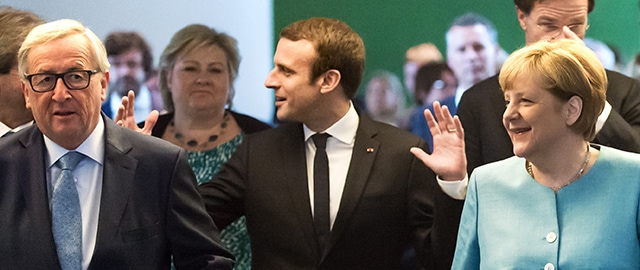 "Macron has three overriding priorities: Restore the dignity of the presidential office damaged under his immediate predecessors, maximise both the hard and soft power of France abroad and effect real economic recovery at home," says Jim Shields, a professor specializing in French politics at Aston University in Birmingham, England.
Macron's visit to China in early January served all three, says Shields, by burnishing his international credentials and laying the foundations for highly significant trade agreements.
"He reminds me so much of a young [former UK prime minister] Tony Blair when he talks of globalisation," says Philippe Marlière, European politics professorat University College London. "He sees European and global integration as a fact that will not change and as an opportunity. In France, this is new. It is a highly pragmatic stance. "
Marlière adds that the UK's decision to leave the EU and the dwindling strength of German Chancellor Angela Merkel, who saw her party diminished in Germany's recent federal elections, have given Macron a rare chance to bolster French influence.
"He has come to power at the right time, where he can use the political clout of France in Europe, and be the strong man of Europe overseas. This makes him a very interesting proposition."