NEWSMAKERS
Over the past year, Georgia has undergone a major political face-lift. Since the Georgian Dream coalition, led by billionaire businessman Bidzina Ivanishvili, won parliamentary elections in October 2012, a cadre of relatively young and inexperienced politicians has risen to the government's top posts.
One by one they have ousted their rivals of the United National Movement Party, bringing the era of Mikheil Saakashvili, the father of the Rose Revolution and a darling of the West, to an end.
This October, after Georgian Dream's candidate Georgy Margvelashvili was elected president, the final piece of the puzzle fell into place when Ivanishvili confirmed he would retire as prime minister and handpicked 31-year-old minister of the Interior Irakli Garibashvili to be his successor.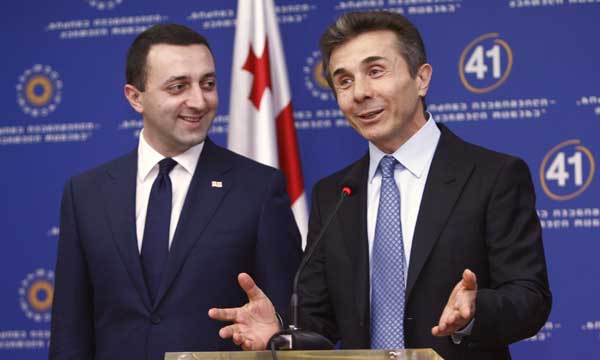 Irakli Garibashvili (left) looks to his mentor, Bidzina Ivanishvili, who expects to still play a role
French-educated Garibashvili was praised for his push to reform Georgia's police force, but his young age, short résumé and close proximity to his powerful mentor raise concerns that he will be a puppet in Ivanishvili's hands. "This choice seemingly fits the outgoing prime minister's plans of having a behind-the-scenes role in Georgian politics," says Lilit Gevorgyan, Russia and CIS, Europe analyst for IHS Global Insight.
What's more, Garibashvili will be Georgia's youngest-ever head of government at a particularly delicate time in the country's history. Long-planned constitutional reforms are now kicking in, transferring crucial powers from the office of the president to that of the prime minister.
Now the biggest question concerns Garibashvili's plans for the underperforming economy. "During Saakashvili's time, Georgia greatly benefited from Western foreign direct investment and financial support, a result of his staunchly pro-Western and, to a degree, anti-Russian policies," says Gevorgyan. "The new leadership is unlikely to have the same relationship with the West, and Georgia could feel the pinch of receded FDI further."
Additionally, although Georgian Dream controls parliament, the presidency and the prime minister, it does not always speak with one voice. It will be up to Garibashvili, and probably Ivanishvili, to ensure that foreign investors return to Georgia and that economic growth picks up again. "Ivanishvili might shy away from publicly commenting on the government's actions," says Dmitri Fedotkin, an economist for VTB Capital in Moscow. "He will, however, most likely remain the key linking element of the whole Georgian Dream coalition."