New Lowe's CEO faces a heavy lift.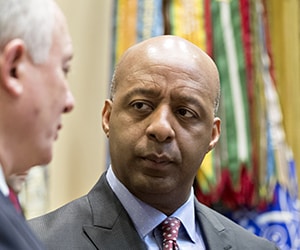 Lowe's, a leading US home-improvement retailer, announced in May that Marvin Ellison would become CEO following his tenure as the CEO of JC Penney, one of America's iconic department stores. Ellison was once a senior executive with Home Depot, and that experience is expected to help Lowe's increase its market share.
The retail industry has been troubled in recent years by low foot traffic at malls, fierce competition from foreign and online retailers, and real-estate factors. Ellison had come to JC Penney to execute a restructuring and turnaround plan, including store closures and introduction of new business lines.
The numbers are shocking: Over 12,000 bricks-and-mortar stores have closed in the past eight years in North America, according to industry analysts, with another 12,000 expected to close in 2018 alone. Half of all US malls are expected to close by 2023. Industry observers call it a "retail apocalypse."
The exponential growth of large ecommerce platforms is forcing retailers such as JC Penney and Lowe's to update their omnichannel strategies. Ellison has developed significant experience and knowledge in this space, melding traditional retail strategies with online commerce. The home-improvement industry is driven by the purchasing power of the middle class. A decade after the Great Recession, North American consumers continue to suffer from stagnant wages while the cost of living keeps rising.
This reality forces retailers to be innovative to survive. Macy's recently acquired Story, a shop that changes its inventory and theme every few months. "There needs to be more stores like Story," says Richard Kestenbaum, co-founder of Triangle Capital, a boutique M&A advisory firm specializing in the apparel, retail and consumer sectors.
Lowe's recently established Lowe's Innovation Labs, designed to blue-sky potential applications for disruptive technologies. Already, the company has taken up training employees using virtual reality and 3D home-viewing.