It would be the biggest foreign corporate takeover ever by a German company, but will regulators let Bayer buyMonsanto for 62 billion?
"Evolution, not revolution," Werner Baumann promised a few days before taking the helm of pharmaceutical behemoth Bayer in May.Just two weeks later, however, Baumann spearheaded the biggest foreign corporate takeover ever by a German company, offering $62 billion for US seedmaker Monsanto—the largest-ever cash offer for a single company. The move would reshape Bayer overnight, turning the 153-year-old firm that invented aspirin into the global leader in agricultural seeds and pesticides.
Baumann's intrepid move was not welcomed by investors: Shares in Bayer, which until then had focused on expanding its healthcare division, fell more than 8% on the news. However, when, early in September, Baumann won Monsanto's agreement to the deal by raising his offer to $66 billion, only about 5% above that first bid, many were impressed by his negotiating skills.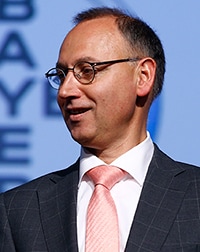 Baumann, who turns 54 in October, started his career in Bayer's finance department in 1988, rose to CFO in 2010, and most recently served as chief strategy and portfolio officer. Married, with four children, he is fond of fast cars and do-it-yourself home improvement projects, yet often described as bookish as well as very ambitious. His career now hinges on his ability to persuade regulators and politicians in the US, Canada and the European Union that the deal should be approved.
By pairing up with Monsanto—demonized for its pioneering role in developing genetically modified crops, which are banned in many countries as a result of health concerns—Baumann faces an unprecedented level of scrutiny. Some believe it could kill the merger.
"Baumann had little choice," says Erik Gordon, a professor of entrepreneurship and science commercialization at the University of Michigan Ross School of Business. "If he hadn't acted quickly and taken the risks of publicly pushing a deal and stretching Bayer's balance sheet to close it, Bayer would have been left out of the industry consolidation. Its crop sciences business would have declined in value while other companies grew to serve what will be one of the few growth industries."
In 2015 a study by advisory service Deloitte found that margins on research and development investments in pharmaceutical companies were at their lowest since 2010. "The fact that Baumann was new to the CEO post didn't matter," says Gordon. "You don't control the timing of things."