NEWSMAKERS: POLAND
By Justin Keay
Poland's central bank governor, Marek Belka, marked the start of the New Year with an interview to a leading business newspaper in which he claimed Poland had experienced "the perfect slowdown" rather than the slump experienced by many other EU countries, and that the time for austerity was past.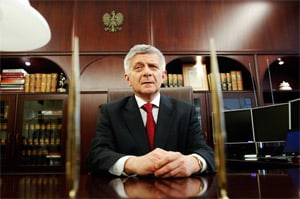 Belka's performance stands out in Europe
Many say his performance has been one of the best in Europe. At first glance, this prognosis seems about right: Poland, famously the only EU country not to experience declining GDP in 2009, grew 15.2% between 2008 and 2011. The bank sector is well-capitalized and FDI is surging.
Observers agree Belka — a former director of the IMF's European department who became governor in June 2010 after his predecessor, Slawomir Skrzpek, was killed along with president Lech Kacznski and other officials in a plane crash in Russia — has cause for satisfaction.
"He's done a pretty good job and has worked well with the finance ministry and other key people," says Neil Shearing, chief emerging markets economist at Capital Economics. However, Shearing has two caveats. The first is the bank's poor communication skills, with conflicting messages about monetary policy coming from members of the monetary policy council. The other is that Belka seems to have misread the global economic situation early last year, plumping for a controversial rise in interest rates to curb inflationary threats rather than the cut the continuing global slowdown should have encouraged. However, Belka has since cut interest rates twice to their current 4.25% and has room for further cuts if he needs it.
So will 2013 be as Belka expects, with recovery becoming more established? Quite possibly, although the big concern remains the eurozone: Capital Economics is forecasting a 2% contraction over 2013. If Belka does successfully steer Poland though these choppy waters into full recovery mode, his reputation will be sealed.