NEWSMAKERSUS
By Valentina Pasquali
With high-stakes negotiations with Congress under way, US president Barack Obama is bringing in a new treasury secretary.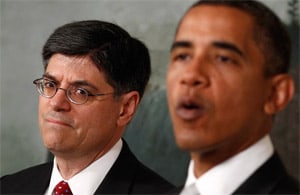 Lew: An experienced political negotiator
Jacob Lew, 57, was the White House's chief of staff since early 2012 and has a great deal of experience working for government in a variety of capacities, from policy adviser of former Democratic speaker of the House "Tip" O'Neill Jr, to deputy secretary of state.
Lew will have to hit the ground running with debt reduction and the debt ceiling talks in full swing. "From that standpoint he is about the best person you can have because he is moving from the White House," says Edwin Truman, senior fellow at the Peterson Institute for International Economics, "so he has no start-up cost. He doesn't even need to read the briefing books because he has probably already been handing them over to the president for the last few months."
Obama's pick indicates a shift in strategy: Lew is a political insider who can hold his own during negotiations with Republicans in Congress. "That contrasts with recent secretaries who have been big industrialists/CEOs (Paul O'Neill, John Snow) and more recently Henry Paulson and Tim Geithner, who had financial markets experience that was crucial during the crisis," says Paul Ashworth, chief US economist at Capital Economics. In fact, Lew's résumé is thin in only one respect: His private sector experience is limited to a brief stint in 2006 as COO for the alternative investments unit of Citigroup, a controversial division that made risky bets against the American housing market.
"A primary, if not the primary, objective of the next treasury secretary will be to build a cooperative relationship between the administration and the private sector, and also a coherent economic policy that has been seriously lacking over the previous four years," says Ward McCarthy, chief financial economist at investment firm Jefferies. "With this in mind, his limited private sector experience has to be viewed as a liability."