NEWSMAKERS: VENEZUELA
By Valentina Pasquali
As Hugo Chávez's 13-year-long domination of Venezuelan politics is overshadowed by ill health, speculation over who will carry on his legacy is largely focused on vice president Nicolás Maduro Moros, whom Chávez himself appointed as his successor.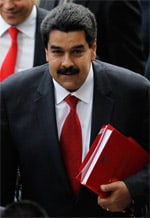 Maduro is known for his diplomatic skills
A former bus driver and union leader, Maduro rose to the country's number-two position after the general election in October 2012 but has long been close to Venezuela's strong man and has served as foreign minister since 2006. "He is known for his negotiating and diplomatic skills,"says Diego Moya-Ocampos, a London-based analyst for IHS Global Insight, "and he is seen as someone who might be able to keep the various Chavista factions united."
Regarded as less charismatic than his mentor, Maduro is considered a moderate within the Chavismo movement. However, with power always heavily concentrated in the hands of Chávez, not very much is known about his specific policy preferences, especially in terms of domestic issues. "He has been a 'yes man,'" says Michael Shifter, president of the Washington-based Inter-American Dialogue, a policy forum on Western hemisphere affairs. "He has been loyal, which is a strength, but with little experience in independent decision-making, which is a weakness."
Maduro has no particular background or expertise in economics, which means he would have to rely heavily on his advisers. On the other hand, he is generally well liked in diplomatic circles in his role as foreign minister, chiefly at the regional level. If Maduro should fulfill Chávez's wish and emerge as the new leader of the Socialist Party and the country (he needs to win the next presidential election), Venezuela might, some observers hope, witness a window of opportunity to improve bilateral relations with the US, although any steps forward would be extremely slow and gradual.
Overall, says Risa Grais-Targow, Venezuela analyst for geopolitical consultancy Eurasia Group, "Maduro will probably represent policy continuity. He could be more moderate, but his ability to deviate significantly from current policies will likely be limited by the various interests within Chavismo, particularly in a context where he would likely have to make tough economic decisions upon assuming office — devaluation, fiscal adjustment."