NEWSMAKER US
By Valentina Pasquali
Though still bearing the scars of the recent financial crisis, the US economy is recovering, and markets are returning to levels unseen in years.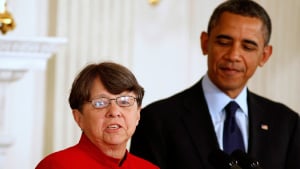 White is reputed to be a tough enforcer
Photo Credits: LARRY DOWNING/ REUTERS
But much work remains to be done to strengthen the US regulatory landscape, and the Wall Street reform law, also known as the Dodd-Frank Act, is only half implemented. In this context, president Barack Obama's appointment of Mary Jo White as the new chairman of the Securities and Exchange Commission (SEC) received starkly divergent reviews in Washington.
White is a former federal prosecutor who spent a decade as the US attorney in Manhattan and made a name for herself by going after the terrorists behind the World Trade Center 1993 bombing and mobster John Gotti. More recently, she worked as the chief litigator at the law firm Debevoise & Plimpton in New York, defending brand-name Wall Street clients.
White's diverse background has some people hailing her as a tough enforcer, while others view her as the symbol of a broken system of revolving doors. "She has been a great public servant," says James Cox, a corporate and securities law professor at Duke University. "Lawyers should not be judged by the clients they represent."
Others are not so keen. According to Eleanor Bloxham, CEO of The Value Alliance and Corporate Governance Alliance, which advises board directors, White's work defending Wall Street firms represents a conflict of interest, and so does that of her husband John, who is a partner at a corporate law firm (he was also at the SEC, where he headed the division of corporation finance from 2006 to 2008, during the buildup to the crisis.) Additionally, White has little experience in the realm of financial rule writing. "[Her appointment] sends a signal to the staff that is ambiguous at best," says Bloxham.
But maybe this ambiguity is what the White House sought when nominating White. "She is able to straddle the line between being a strong enforcer and being an insider," says Isaac Boltansky, an analyst for Compass Point Research & Trading. "We live in such divisive political times that people with strong backgrounds on one side or the other struggle, whereas someone like her can highlight multiple facets of her background and attract support."