NEWSMAKERS: ECUADOR
By Gordon Platt
Five days after Ecuador's left-leaning president Rafael Correa was inaugurated for a third and final four-year term, the country's ambassador to the US, Nathalie Cely, addressed a group of business leaders and investors at the Harvard Club in New York.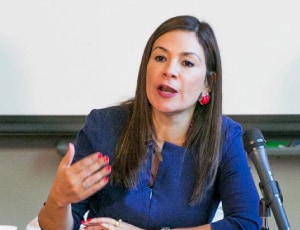 Ecuadorean ambassador Cely downplays Correa's "Citizens' Revolution"
"President Correa believes in his heart that the true engine of growth is the private sector," Cely said, trying to put the best face possible on Correa's "Citizens' Revolution," or what he calls 21st-century socialism. "Ecuador is open to investment, particularly when it involves technology transfer," Cely told the lunch sponsored by the Ecuadorean American Association.
Correa, who holds masters and doctoral degrees in economics from the University of Illinois, is pragmatic when it comes to improving the lot of the Ecuadorean people. Cely ticked off a list of UN Human Development Indicators showing that out of 186 countries, Ecuador is one of four that have improved their standing the most in the past five years. Ecuador's poverty rate has fallen the most, and its income inequality has been reduced the most. "Ecuador is also the country where the largest share of the poor attend university," Cely says.
The main purpose of her visit was to launch Ecuador's "Keep Trade Going" campaign to secure renewal of US trade preferences under the Andean Trade Promotion and Drug Eradication Act. Ecuador, a small, oil-producing country, spent $2 billion in the past four years to combat drug trafficking and deserves duty-free access to the US market for its cut flowers, broccoli and tuna, according to Cely.
The ambassador was also laying the groundwork for Ecuador's plans to return to the international bond markets later this year, four years after it defaulted on $3.2 billion of foreign debt. Global investors in search of yield have shown an appetite recently for risky emerging markets debt from countries such as Bolivia and Honduras. "There is a window of opportunity open, and we intend to go through it," Cely says.
Meanwhile, at his inauguration Correa said that his government would keep fighting for the Citizens' Revolution throughout Latin America. "We are no longer anyone's backyard."