NEWSMAKERS: US
By Luca Ventura
When AG Lafley handpicked Robert McDonald as his successor to the top post at Procter & Gamble in 2009, he could not have predicted that just four years later he would be called out of retirement to take it back.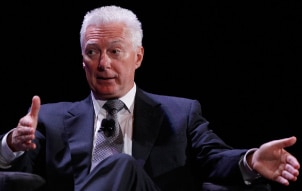 Call of duty: Lafley is back in the top seat at Procter
"Duty called, and I agreed on the spot," Lafley commented in the press. McDonald's run as CEO of the world's largest consumer products company had been rough from the start, with analysts and shareholders complaining about his less-than-effective global marketing strategy and the poor stock performance. The company reported its latest lackluster results in April, and McDonald was out of the job less than a month later.
Lafley's comeback is not the only recent instance of the next-big-thing proving to be the tried-and-true. Over the past few months, JC Penney fired CEO Ron Johnson and replaced him with his predecessor Myron Ullman, and Infosys brought back its co-founder and first chairman, Narayana Murthy.
Under Lafley, who is expected to stay for only a few years, P&G made crucial inroads into the emerging markets and boosted sales of higher-margin beauty and grooming products alongside household brands—such as Pampers, Crest and Tide.
However, although rehiring the old management has proved successful in some notable cases, Lafley will face a scenario far more challenging than the one he left, with more frugal customers and tougher competition from Unilever, Colgate-Palmolive and L'Oreal.
"The consumer and economic environments where Lafley's P&G operated have changed," says Javier Escalante, global household and personal care analyst at Consumer Edge Research. "On the one hand, the US has bifurcated into large-value and premium niches, where many of P&G's brands don't fit as effectively. On the other, the volatility and speed at which the consumer environments in emerging markets now change are making less competitive a centralized organization [such] as P&G." However, Escalante sees Lafley's return as a positive: "By more effectively prioritizing the company's investment ideas, he could prove to be the morale booster that the company needs." So far, the markets appear to agree.