NEWSMAKERS: ARGENTINA
By Paula L. Green
Argentine president Cristina Fernández de Kirchner isn't afraid to tangle with the British, global bondholders, her own judicial system or even the International Monetary Fund.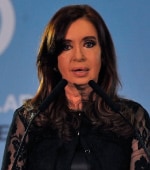 Fernández de Kirchner has until September to resolve IMF data dispute
In the middle of a second four-year presidential term that began after her reelection in October 2011, Fernández de Kirchner—or CFK, as she is known in the Argentine press—is at odds with the IMF over the accuracy of data Argentina has provided on inflation and economic growth. Under the watch of the fiery 60-year-old, Argentina has become the first member country to be censured by the IMF for its shaky financial data. She has until late September to take what the IMF calls "remedial measures" on data.
If South America's second-largest economy doesn't ante up statistics the IMF finds credible, the IMF can apply further sanctions, such as suspending the Latin nation's voting rights and barring it from taking loans. The final step: compulsory withdrawal.
Data has been questioned since early 2007, when Fernández de Kirchner's late husband, then-president Néstor Kirchner, changed staff at the Argentine statistics agency. Independent economists estimate inflation is running 25% to 30%, while bureaucrats contend consumer prices are up by only 10%.
In another twist, the president authorized the deposit of $400 million with the IMF this spring to increase the nation's access to emergency cash. Central bank reserves have plummeted as the Argentine peso has continued to lose value and people are storing coveted US dollars at home. With overseas borrowing costs around 14%, Argentina hasn't sold global bonds in years, prompting Fernández de Kirchner to tighten capital controls and ban most dollar purchases.
Meanwhile, a year after seizing energy giant YPF, Fernández de Kirchner is funneling more money into the energy industry, which is struggling to boost production from the world's third-biggest shale oil reserve. But even while pushing for broad judicial reforms that have drawn multiple public protests, Fernández de Kirchner, a lawyer, has told Congress she will not seek any constitutional overhaul that would let her run for a third consecutive term in the 2015 president elections.