NEWSMAKERS
In a widely anticipated cabinet reshuffle at the end of October, Peruvian president Ollanta Humala appointed 67-year-old Cesar Villanueva the country's new prime minister, the fourth of his four-year term.
"President Humala's approval rating has plummeted from over 50% earlier this year to a record low of 24%", says Ronn Pineo, a senior research analyst for the Council on Hemispheric Affairs, an independent research organization. "Villanueva is seen by many as a safe choice, one popular with the business community and even much of the political opposition in congress."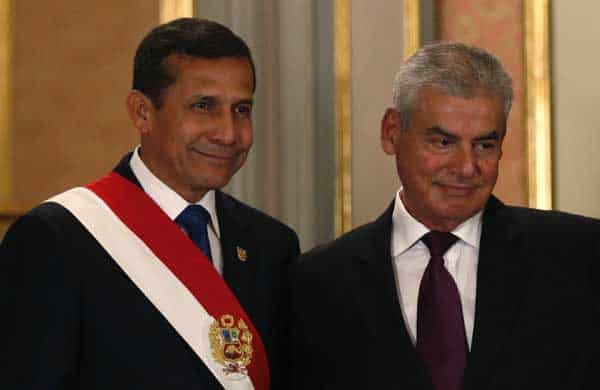 Cesar Villanueva (left) gives Humala's (right) government a hand up
Villanueva comes from the moderate center-left, has held elected office before, having served twice as the president of the northern region of San Martin, and is widely seen as responsible and market-friendly. "What is important is that he is a real politician in a government that is made up of technocrats and has a real deficit of political experience and skills," says Harvard University professor of government Steven Levitsky.
With growth averaging 6% a year during the past decade, Peru has long been the poster boy of emerging Latin America. So much so that Fitch recently upgraded the country's credit rating.
"High commodity prices have allowed the government to maintain a virtuous circle of inward investment, economic growth, social spending and political stability," says Michael Henderson, an analyst who covers Latin America for Capital Economics. "But in an environment of weaker commodity prices—which we expect over the next two to three years—this could become more difficult, potentially causing a squeeze on domestic demand and, in an extreme case, even tipping Peru into recession."
Prime minister Villanueva has promised to focus on issues of crime and security, which are at the top of Peruvian voters' concerns alongside corruption. President Humala hopes that Villanueva's addition to the cabinet will strengthen his weakening government and give the executive the necessary leverage to push legislation through congress.
Going forward, the Peruvian leadership must find a balance between two competing goals: addressing the mounting dissatisfaction of poor rural peasants, Humala's core constituency, who do not feel they have reaped the benefits of economic growth; and protecting the administration's pro-business reputation among international investors, which is key to attracting an uninterrupted stream of foreign direct investment.