Dear Reader
DECEMBER 2014 | VOL. 28 NO. 11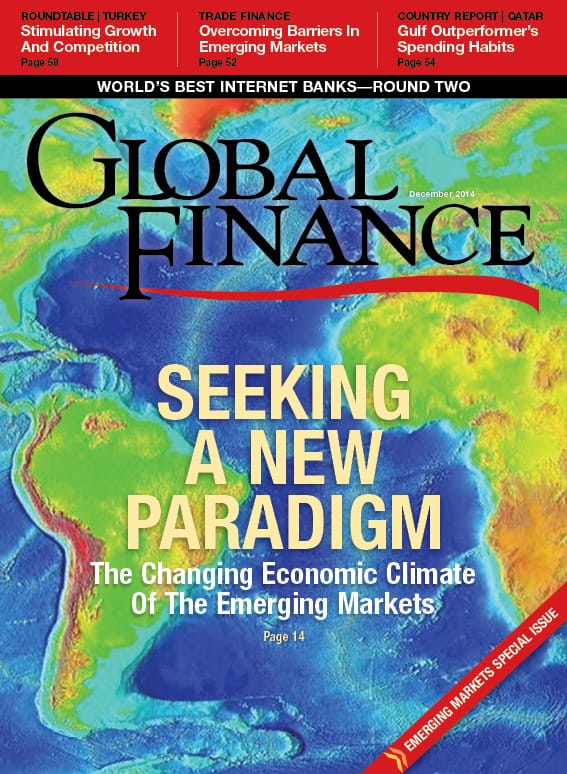 For many years Global Finance has regularly covered emerging markets and frontier markets. This annual issue of the magazine, which is focused on the EM, goes a bit further. We analyze these markets regionally, but we also question the prevalent definition of emerging markets.
The cover story queries whether it makes sense to talk about emerging markets—and the BRICs—as a whole when the economic conditions of countries such as China and India are very different from those of Brazil and Russia. This is not a debate over the use of an acronym, but rather an analysis of how the shared characteristics that brought about the concept of emerging markets have diverged. This moniker may no longer be as relevant as it once was.
The discussion bears on advanced economies as well: This year ends with signs of divergence both in economic performance and in monetary policy between the US, Europe and Japan. The Federal Reserve in the US will, according to most forecasters, raise interest rates in 2015, while the ECB and the Bank of Japan pursue quantitative easing. The economic growth of the US is expected to be stronger than that of the euro area or Japan, and their currencies should perform differently. This is a key theme for 2015, according to the forecasters of Invesco, a large global asset manager.
As a result, emerging economies should report differing economic performance, depending their exposure or proximity to different advanced economies. Economic performance will also be ever-more-closely tied to their dependence on commodities imports or exports in a phase of lower demand. It is therefore not a surprise that in the past couple of years many countries have worked to improve their resilience to external shocks and/or to the moves of the Fed.

Andrea Fiano | Editor
afiano@gfmag.com