MILESTONES
Lucky Slovenia. Despite recurrent anti-government protests and corruption scandals, the tiny Adriatic republic of just over two million ranks as the 24th-most-prosperous country in the world, according to the annual Legatum Institute Prosperity Index, which ranks 142 countries by criteria like entrepreneurship and opportunity and personal freedom as well as economy.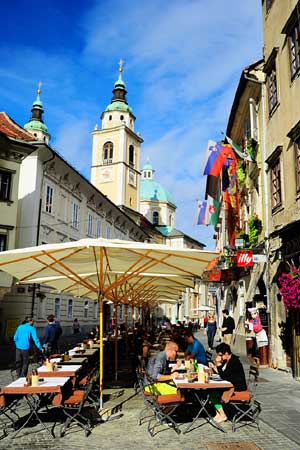 Slovenians enjoying everyday life: Prosperity is not just about economics
The first ex-Communist country to switch to the euro (in 2007), Slovenia has held this ranking since 2009, standing well above its Central and Eastern European neighbors—and many others, coming in just behind Spain in 23rd position and ahead of South Korea at 26, Israel at 39 and Italy at 32.
"Traditionally, a nation's prosperity has been based solely on macroeconomic indicators such as a country's income," says the London-based Legatum Institute in the introduction to its findings. "However, most people would agree that prosperity is more than just the accumulation of material wealth; it is also the joy of everyday life and the prospect of being able to build an even better life in the future."
Joy and Slovenia may not seem to go hand in hand, but Nathan Gamester, program director of Legatum's Prosperity Index, points out a few highlights that should be lessons for other countries in the region. "In the personal freedom sub-index, Slovenia ranks above all other Eastern European countries," he notes.
Education also matters. Slovenia ranks 9th overall in the education sub-index, with one teacher per 17 pupils: "The gross tertiary enrollment rate is 86% in 2013, much higher than on average for Europe (60%)," Gamester adds.
Social cohesion matters too: "92% of Slovenians say they can count on relatives or friends to help in times of need; the global average is 83%, and the European average is 90%." And all this even though Slovenia "moved down 19 places in the economy sub-index since 2009," Gamester observes, with confidence in financial institutions in 2013 down at 37%.
The rest of Central, Eastern and Southeastern Europe doesn't fare anywhere near as well, according to Legatum's findings. Slovenia's nearest neighbor, Croatia, is placed at 53, crisis-stricken Greece at 54, Russia at 61, Serbia at 76, and Bosnia at 97.