MILESTONES

By Tiziana Barghini

A grand plan to transform a vast area round the Suez Canalone of the worlds longest and oldest waterways, linking the Mediterranean and Red Seasinto a trading and industrial center could finally see the light of day in 2015, to the benefit of Egypts flagging economy.

In January the Egyptian government invited 14 consortia to present their alternative plans for the Suez Canal regional development project, which was initiated in the late 1990s under former president Hosni Mubarak, and a winner is expected to be chosen later this year. Work in connection with the area enclosing the fastest shipping route between Europe and Asia is scheduled to start as soon as 2015.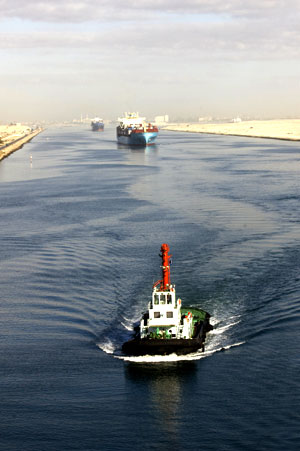 Suez Canal development project gives Egypt economic hope

For Egypts economy, which was seriously weakened by three years of political turmoil, the plan, which will involve work on four seaports (West and East Port Said, Ain Sokhna and Arish in the North Sinai governorate) could be a shot in the arm, stated prime minister Hazem al-Biblawy, according to an official statement.
The project is also meant to attract national, Arab and foreign capital in a way that does not harm Egypts national security, he added.
Egypts recent economic growth has been anemic. In the second quarter of 2013the most recent available datathe countrys GDP rose by 1.5% over the previous year, a poor showing in comparison to rates of growth of 3.9%, on average, from 1992 to 2013, according to Trading Economics. Youth unemployment is estimated to be more than 20%.
For William Jackson, an emerging markets economist at Capital Economics in London, the trading and industrial center plan could be beneficial for economic growth, as well as for the countrys current account. However, he doubts its feasibility.
The Suez Canal project is a positive element. Whether or not the political situation will allow it to go ahead is another matter, said Jackson. He notes the possibility of elections later this year, over and above the recent instability. The Suez Canal brings in approximately $5 billion a year in revenues, which constitutes almost 2% of the countrys GDP.