UK's international trade secretaryreconsidersForeign Trade after Brexit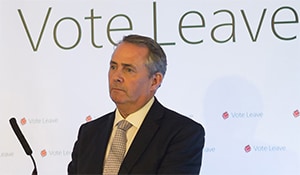 Although Liam Fox made headlines for commenting that British businessmen are too fat and lazy to succeed in exporting, less extensively reported remarks by the UK's international trade secretary about foreign direct investment (FDI) hint at a significant change in policy.
"Up until the change of government, the policy was to get as much foreign direct investment into the United Kingdom as possible but to largely ignore overseas direct investment elsewhere," Fox said at a Conservative Way Forward event. "And that's a problem, because it's great the year we get the foreign investment and we get jobs created, but every year after that all their income flows go to their parent companies."
The UK attracted 1,065 FDI projects in 2015, up 20% from 2014, and increased its market share to 20.9% from 19.9%, confirming its position as European leader of FDI. The EY UK Attractiveness Survey 2016, however, shows that investors are growing less keen on the UK.
Although the survey was conducted before the Brexit vote, 79% of foreign investors cited access to the European Single Market as a key feature of the UK's appeal, and recommended a more integrated approach to trade and FDI.
"There is an opportunity to redirect the policy mix towards exports, FDI, overseas direct investment and import substitution," says Mark Gregory, chief economist at EY. "The UK's success in exporting financial services, for example, shows how important a competitive domestic base and investment overseas are. To extend that success and improve goods exports requires an integrated approach involving rebuilding supply chains, investing in R&D and integrating FDI with other aspects of trade."
Whether this signifies a policy shift remains to be seen: "The government has so far only revealed early signs of its thinking," Gregory says. "Businesses and investors will be looking for more robust signs and policy detail that will hopefully be outlined in the Autumn Statement, and as the Brexit negotiations progress."