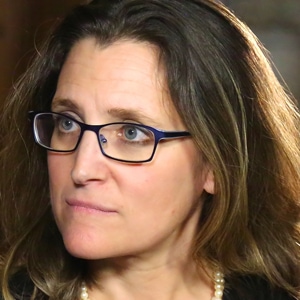 Canadian trade minister Chrystia Freeland made headlines last October when she walked out of the negotiations for the Comprehensive Economic and Trade Agreement (CETA) with the European Union, in protest against opposition to the pact from Wallonia, a region in Belgium. Nine days later, Canada's prime minister Justin Trudeau signed the deal, which if ratified by the European Parliament and each of the national legislatures, would eliminate 98% of the tariffs between Canada and the EU.
A top performer in Trudeau's cabinet, Freeland has just been appointed foreign minister. And while she will step down from her position as trade minister, she will remain responsible for Canada-US trade—a major responsibility, given that three-quarters of all Canadian exports are directed to the United States.
Freeland, 49 years old, is a journalist who came to politics with her election as a member of parliament for the Liberal Party. She has a degree in Russian history and literature from Harvard University and is married to a British writer and reporter for The New York Times. Freeland is a typical Davos woman for her background as a writer and journalist. She started her career freelancing in Ukraine for the Financial Times and ended as managing director and editor of consumer news for Thomson Reuters. Her 2012 book, Plutocrats: The Rise of the New Global Super Rich and the Fall of Everyone Else, has been a New York Times best seller.
Freeland is in many respects a natural counterweight to Trump. She has Ukrainian ancestors and Russian-language skills, and Freeland has long been an outspoken critic of Vladimir Putin. She is one of the 13 Canadians banned from Moscow. With Trump promising to renegotiate the 1994 North American Free Trade Agreement, Trudeau has lined up a strong fighter for Canada