DEAR READER
JUNE 2011 | VOL.25 NO. 6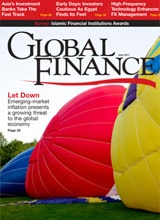 Commodity prices seem to increasingly influence the world economy—both on the producer and consumer side—and the financial markets. As a result, price volatility and speculation have compelled regulators to impose new trading margin rules in the markets. At the same time, demand- and supply-related issues are applying additional pressure. This month we investigate another, parallel, issue: the effect of emerging markets' inflation on the rest of the world. In our cover story, Laurence Neville focuses on a new kind of "export" that could impair the growth of industrialized nations in the near future and, according to some analysts, potentially derail their recovery. The irony is that the rapid economic expansion of countries such as China, India and Brazil and their respective surpluses in the past few years have not only saved the world economy from collapse, and helped post-industrial economies to come out of recession, but also created the basis for their own current inflation issues.
This month the US Federal Reserve will end its second, and most likely final, round of quantitative easing. It is not yet clear what its next move in terms of monetary policy will be. On the other side of the ocean, the most probable successor to Jean-Claude Trichet at the European Central Bank appears to be Mario Draghi, the current governor of the Italian central bank. However, the turmoil related to sovereign debt issues in countries such as Greece is still at the top of the ECB agenda.
In this issue we also focus on Kuwait, as it celebrates its 50th anniversary as an independent emirate. In addition, we look at Egypt's economy and its and growth prospects in the aftermath of the fall of the Mubarak regime. Our regional focus is on Asian investment banking and the strong demand for financial services in that area, as local and international banks are fiercely competing to secure IPOs and other advisory work. Our awards this month focus on Islamic finance—a fast-growing segment of the banking sector in emerging markets and other countries.
Willem Buiter, chief economist at Citigroup, a former member of the Monetary Policy Committee of the Bank of England and EBRD chief economist, recently predicted that the new economic powers in the next 30 years will not just be China and India, but also Mongolia, Indonesia, Nigeria, Bangladesh and Vietnam. According to his forecast, by 2050, the economic output of Africa and Latin America will each be bigger than Western Europe's.
On a monthly basis, we will continue to focus our attention on these developments and trends.
Andrea Fiano