Editor Andrea Fiano's piece on past, present and future innovation opens the June issue of Global Finance Magazine.
June 2017 | Vol. 31 No. 6
Past, Present, Future
When we decided to mark the 30th anniversary of Global Finance, we figured that looking at innovation—past present and future—was one of the best ways to do it.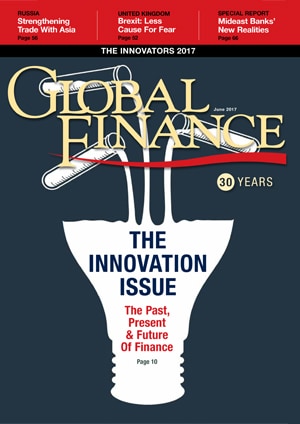 So much has changed since this magazine published its first issue in 1987, with a name that was itself innovative—even daring—in those days. So much has changed in the areas where we focus our attention, like corporate finance, transaction banking and financial services in general.
Innovation has been pervasive, often disruptive and transformational. As much as we followed the Oslo Criteria in choosing the innovations worthy of honors this year (see page 14), it was nevertheless difficult to distinguish between real innovation and mere reinvention. Every single day we are flooded with announcements touting this or that fintech innovation. But which are truly fresh and original? It is hard to tell. Harder still to assess in real time which inventions and developments will turn out to be transformational in the future.
To gain some long-term perspective, we decided also to look back and try to determine the most important and relevant financial innovations of the last 30 years. We convened a committee of experts, polled our readers and interviewed industry insiders. None of the eventual choices (see page 36) were clear-cut and simple.
To choose the innovators of 2017 we often had to exclude innovations that would have been relevant in other occasions or in other rankings, or innovations that are very relevant now in a given country but have no regional or global relevance. The top 10 innovations of the last 30 years could have been more or less in number, and the list could have been very different.
Of course, invention is about looking forward. We took up consideration of the future of finance for our cover story, trying to envision what banking services might look like when the promises of blockchain and artificial intelligence are fully realized. It was hard to forecast and still be realistic, but ultimately that's what innovation is: first dreaming, then making the dream reality.

Andrea Fiano | Editor
afiano@gfmag.com