Editor Andrea Fiano's piece on balancing near-term and long-term efforts opens the May issue of Global Finance Magazine.
May 2017 | Vol. 31 No. 5
Imperatives For Banks…
At the spring meetings of the International Monetary Fund (IMF) and the World Bank in Washington, there were warnings on two key banking issues: the possible radical rollback of the Dodd-Frank Act by the new US administration, and the weakness of the European banking system, which suffers from high rates of nonperforming loans and a need for further consolidation in some countries.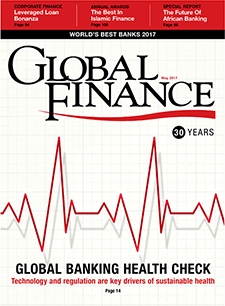 "A cyclical recovery will likely be insufficient on its own to restore the profitability of consistently weak banks [in Europe]," according to an IMF report. Similarly, the IMF recommends that current political uncertainty demands a more integrated "full-fledged banking union"—an idea that does not enjoy much support at present on the Continent.
In this issue, we take a more positive view, although not necessarily in contradiction with the IMF's. On one hand, we celebrate banking excellence worldwide with our annual Best Banks Awards—and we can assure our readers that there was no shortage of good candidates from every continent. On the other hand, our cover story looks at the future of the banking world and identifies regulation and technology, particularly the deployment of artificial intelligence, as key drivers of the future. Fintech in its widest sense is changing all the activities of traditional banks, and giving rise to new ones. The debate over the necessity for regulation—some cohesive code worldwide—is crucial for the future of the industry. The Institute of International Finance in its semiannual letter to the IMF and the World Banks states clearly that "international regulatory consistency and coordination provide vital support for economic growth and financial stability." Such rules may well decide winners and losers in the long term.
Basically banks worldwide might have to deal with problems of governance and regulations and their related costs, or with nonperforming loans, right now. But they also need to keep an eye on the future, implementing new solutions, offering new products and in general keeping up innovation. To grow and thrive takes both decisive short-term action against barriers and thoughtful long-range planning that embraces opportunities.

Andrea Fiano | Editor
afiano@gfmag.com