The April issue of Global Finance takes a closer look at rising demand for commodities.
APRIL 2017 | Vol. 31 No. 4
There is surprising growth in both advanced and emerging economies lately. Some possible obstacles to growth, such as Brexit and the new skepticism of free trade in the US, have not been negative factors thus far.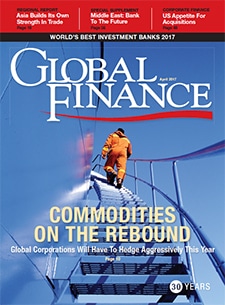 Some question how growth is measured, and in particular what GDP actually measures. Rick Rieder, chief investment officer of Global Fixed Income at BlackRock, believes that even though "current GDP measurement does not capture many other factors, like the contribution of technology…growth will continue to be very solid, and will surprise people as to its strength globally."
This month's cover story on commodities shows one of the shining components of this "new growth": new demand for manufacturing inputs. It could also partially explain what is happening on the growth side. Rising demand for commodities, in other words, benefits commodities-exporting countries, but the demand itself is a hopeful sign of fresh growth in advanced and emerging economies.
To be sure, uncertainties and clouds still loom on the global horizon. The final communique of a recent G20 meeting of finance ministers and central bank governors could not include a reference to free trade, due to the opposition of the US administration. If the US withdraws from world trade, can demand from emerging markets (EM), via initiatives like China's One Belt, One Road, fill the void? Neil Shearing, chief EM economist at Capital Economics, is among the skeptical. Yet the latest upsurge in demand for commodities—despite protectionist rumblings—may portend a new balance of trade power worldwide.

Andrea Fiano | Editor
afiano@gfmag.com