BRIC BY BRIC

MAY 2012 | VOL. 26 NO. 5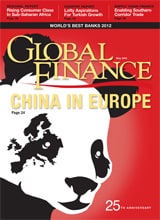 The outgoing president of the World Bank, Robert Zoellick, recently made a statement that we consider particularly relevant to our readers. Zoellick claimed that the World Bank backs the creation of a new BRICS bank. This idea was a key point of discussion at a special meeting of BRICS country leaders recently held in New Dehli.

Just the idea of a development bank launched by this group shows how changed the global economic landscape has become, and also how much the banking world is changing.

The leaders of Brazil, Russia, India, China and South Africa want stronger support for their development from the World Bank, and have been disappointed by the support proffered from the International Monetary Fund. They want more representation both within and at the helm of the World Bankwhere once again an American has been named president. They have been continually under-supported and under-represented by these multilateral organizationshence the interest in creating their own development institution.

Zoellick said that it would be a "mistake of historic proportions" not to give these countries the abilityand libertyto further their own development. This seems particularly relevant as the BRICS countries may well be involved in a solution to the European financial crisis.

It is too early to say whether this bank will be created, if its role will be similar to that of the OPEC Fund and the Islamic Development Bank in their respective markets, or if it will present a challenge to the traditional role of commercial banks in those countries. The final decision could tell us about the future role of the BRICS countries on the international scene and may reflect a new balance of power between emerging and developed economies.

This issue of the magazine includes our annual Best Banks selection, which has some unexpected winners. The selection of the best banks awards is one of the toughest for our editorial team because often more than one bank deserves the title in a given country for different reasons. These awards seem more significant than ever in a period of continuous turbulence for several key markets.
Andrea Fiano