DEAR READER

JANUARY 2014 | VOL. 28 NO. 1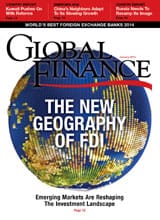 Janet Yellen steps in as the new chair of the Federal Reserve at a precarious moment. The Fed tapering announced in December will have a huge impact on markets around the globe. In fact, it has has an effect even before its annoncement, adding an element of uncertaintyand thus volatilityto financial markets in developed and emerging economies.
And this uncertainty extended to all treasurers and CFOs in the corporate world. We have all gotten used to the Fed being the biggest investor in the fixed-income universe, and to super-low interest rates in the West. This, no doubt, will gradually change, but we had all better prepare in advance.
Yellen, the first woman ever to chair the Fed, wont be alone in the ranks of women at the top. Mary Barra will this year become the first female CEO of General Motors. Her new appointment as first female head of a global automaker, predicted by some but nevertheless symbolically relevant, shows that the American corporate world is changing and that, thankfully, there are no longer any sectors or companies where a female executive cannot get to be the chief.
After listening to a robust round of year-end forecast presentations, it is clear that what we have to look forward to in 2014 is not just the Federal Reserve's tapering but also the outcome of Chinas slowing growth, the effects of Abenomics in Japan and a still-sluggish economic environment in Europeand perhaps also in the United States.
At

Global Finance

we celebrate the new year with a look at the new geography of foreign direct investmentwith the increasing attraction of developing countries over developed ones as a destination for long-term investments. We evaluate the consequences of this global shift. It is a developing story, much like the editorial mission of this magazine.
As such, we appreciate your comments and your input on our stories and our approach.
Andrea Fiano