In this issue: the outlook for global trade, Best Pension Managers, special report on Gulf countries, our Sibos supersection, and more.
JULY/AUGUST 2017 | VOL. 31 NO. 7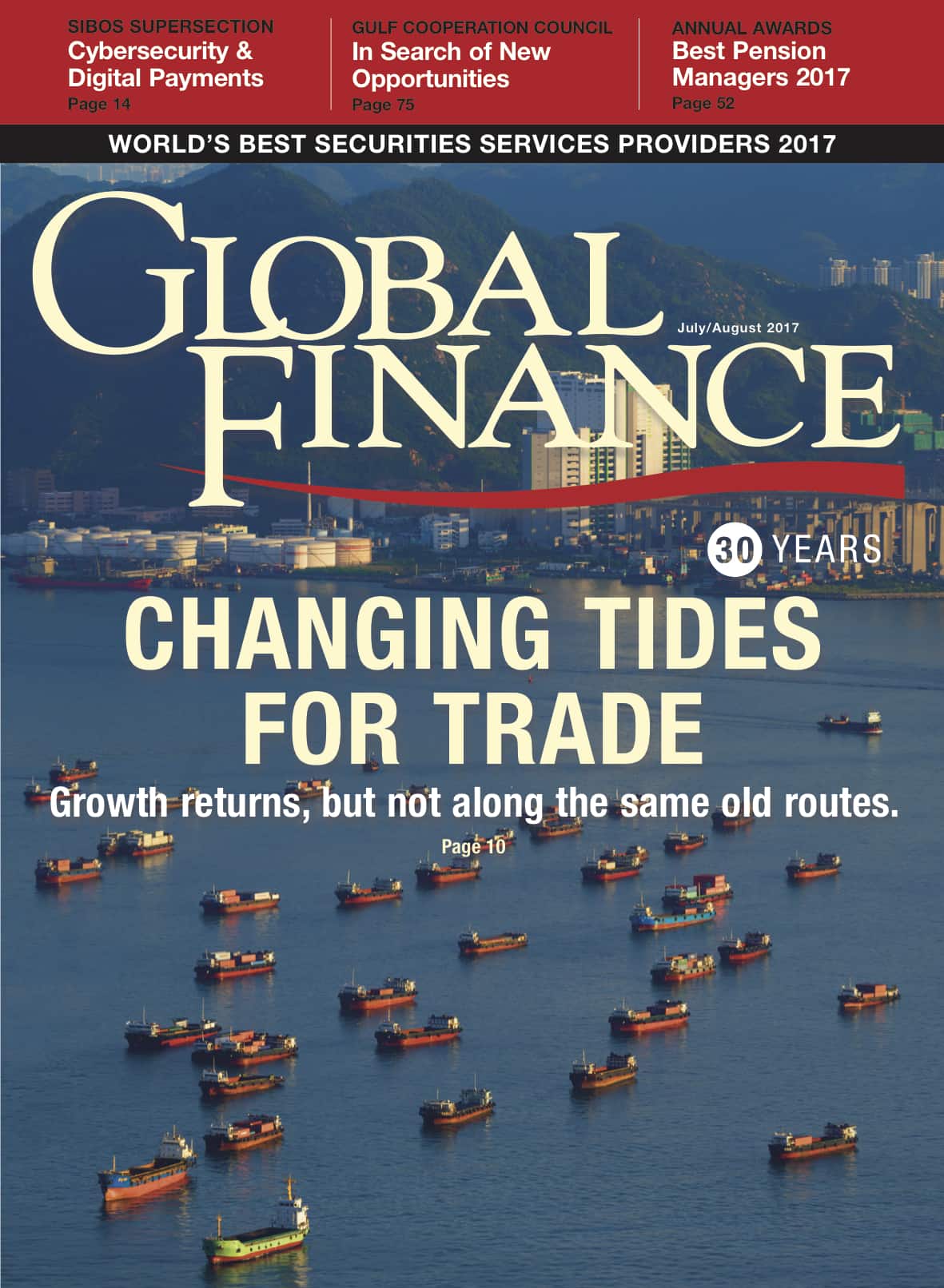 Global trade has spent the last few quarters defying expectations. While the globalization backlash continues, and bilateral issues have arisen here and there, trade so far this year is growing faster than in 2016. It's also flowing in new patterns. Having seen some contradictory trade numbers, we felt the need to dig deeper. The result is this month's cover story, which provides some clarity on the apparent contradictions and illustrates the strong link between trade and economic growth.
Current trade growth takes place despite geopolitical strife and rising protectionism—in both rhetoric and action. Summer months, at least in most of the Western world, traditionally bring not only high temperatures but often unexpected tensions and uncertainties. Still, business goes on. That explains the optimistic outlook presented by several economists for the rest of this year, and particularly the growth prospects of both advanced and emerging economies.
This issue of the magazine focuses not just on trade, but also on key areas of interest for corporates worldwide. We present our annual awards for the best securities services providers, including subcustodians. We also offer our first awards for the world's "Best Pension Managers," which look at the best defined-benefit pension managers worldwide and at the key trends in the industry, like increased outsourcing of pension assets and the use of multimanager models.
In this issue we also have extensive coverage of two key areas for us. We have the Gulf countries, lately at the center of global attention for political developments in Saudi Arabia and between Qatar and the rest of the region. Also, our Sibos supersection is dedicated to topics that will be at the center of its next conference, one of the key annual gatherings for the transaction banking sector, in Toronto.

Andrea Fiano | Editor
afiano@gfmag.com