DEAR READER

JANUARY 2012 | VOL. 26 NO. 1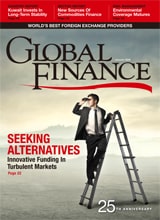 Europe may be the center of attention at the start of the new year, but it is certainly not the only area of the world that worries economists and policymakers. The annual year-end roundup of economic forecasts shows a nearly unanimous expectation that Europe will be in recession as the year begins, while in the US growth will be restrained, but sufficient to avoid a double dip. At the same time, the consensus is for tighter fiscal policies in Europe and the US, and monetary policy on hold or easing further on a global basis.
The emerging markets, although still growing briskly, are clearly negatively affected by the Western slowdown, but no doubt will continue to outpace the rest of the world in 2012.
Uncertainty is the prevailing sentiment in the financial markets, and most risks are considered to be on the downside. In Europe the financial crisis has become a political one, with some countries at the center of the storm seeing a change of government. The intense debate on the future of Europe continues to rage, and nothing is off the table for discussion. Elections will be an important theme worldwide this yearfrom the US to Egypt to Taiwan, and from Greece to Russia.

Global Finance

, which celebrates its 25th anniversary this year, is trying as usual to look beyond and above the current economic climate. Hence, our cover story this month examines alternative financing and the original solutions being used by those companies worst affected by the lack of bank liquiditymainly SMEs. Understanding and analyzing the global markets, and the interdependence of countries and industries, is at the core of our mission. And, when possible, we try also to suggest how to navigate these often-turbulent waters.
Andrea Fiano