OCTOBER 2017 | VOL. 31 NO. 9
When the world's central bankers and finance ministers arrive in Washington this month for the World Bank and International Monetary Fund meetings, the economic picture they will contemplate is rosier than in recent years. Growth has improved almost everywhere. Some emerging markets, like Brazil, even managed to pull out of recession in the last few months.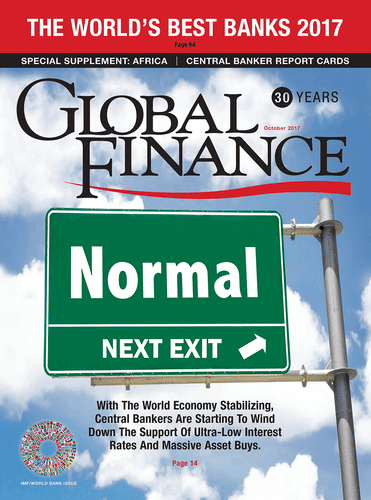 In the West, central banks are starting to push interest rates up toward more normal levels and seeking to wind down quantitative easing. With growth returning, it is time to deal with the huge balance sheets some central banks, like the US Federal Reserve, have accumulated. We focus on this issue in our cover story, well aware that the route to normalization will likely be bumpy. Risks remain.
This month we also celebrate the 30th anniversary of this magazine. When this publication was launched in 1987, even its name was ahead of the times: Finance was not really all that global. Thirty years later, our editorial mission has evolved in tandem with the industry. We still report on macroeconomic and corporate finance issues for a global corporate audience. We still honor the best companies and banks with awards. But we're more focused now on financial innovation, for example, especially via tech. Of course we are digital ourselves as well, with renewed commitment evidenced in our redesigned homepage.
Recently, we announced the grades for the 83 central bankers whose "report cards" appear in this issue—something we've done for 24 years. One reader from East Africa asked why we do not cover some of the regional central banks on that continent. We should next year; there is always room to improve. There is room to report on Western companies doing business in China and their regulatory framework, on the recovery in Argentina and the role of foreign companies there. The list is long and alway changing. No shortage of news for us to report, or of trends to understand, to deliver our financially savvy readers sophisticated insight on global finance.
To all the readers who have shared our journey, for however long, we offer deep thanks. Here's to the next 30 years!

Andrea Fiano | Editor
afiano@gfmag.com