NOVEMBER 2017 | VOL. 31 NO. 10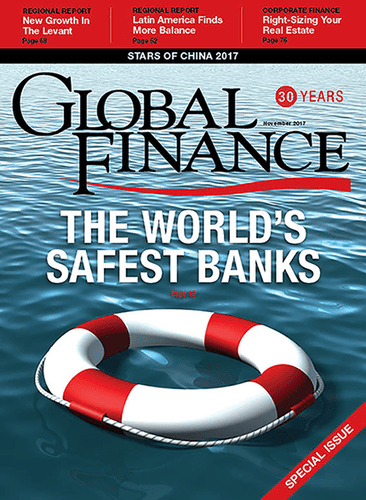 Our annual ranking of the World's Safest Banks is one of our most widely respected awards. Intended as a working tool for banks and corporates, this ranking requires a lot of data and analysis, but after 26 years, it has become an annual check-up on the state of the industry, offering an aerial view of the banking sector worldwide.
It is a surprisingly dynamic award, and not just because the ratings change. This year's winners point to nascent recoveries in Asia and, to some extent, Latin America. Change has been even more dramatic with Chinese banks. Totally absent from our lists of the world's safest or the world's largest banks just a few years ago, they are rising up the rankings. Thus, this issue also presents our annual Stars of China awards, focused on the best financial institutions in that country. Now paired with a complete Safety ranking, it puts China's Best and Safest together, side by side in our pages.

Andrea Fiano | Editor
afiano@gfmag.com