Global Finance magazine editor Andrea Fiano's message to readers about what to expect in this month's issue.
March 2019 | VOL. 33 NO. 3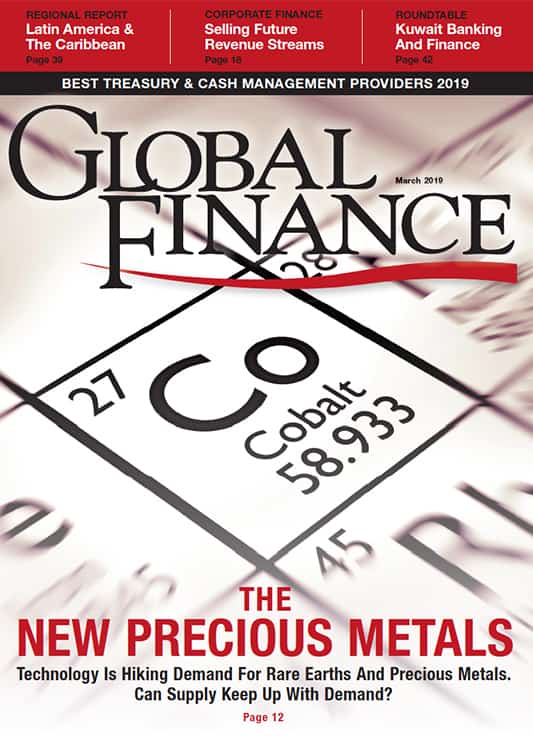 Will there be a winner in the US-China trade war? Is it even really a war? Recent weeks have seen trade tensions between the two nations ease, yet it is still worth asking these questions. There are several possible outcomes, and nobody possesses a working crystal ball.
At a recent debate on US-China relations organized by Intelligence Squared U.S., a nonprofit promoting civil discourse, several panelists saw "no winners" in the US-China trade tiff. More precisely, several claimed that both countries are losing as a result of the trade tensions, referencing falling exports and diminished economic growth. The founder of the Eurasia Group, Ian Bremmer, went even further. He said it's not really a trade war, because neither country can afford to take that much risk. Rather, the posturing and negotiations are just so much high-stakes gamesmanship, and therefore there are no "losers."
The uncertainty around trade, and also Brexit, is going to linger. No immediate and definite solution seems reachable, given the deep roots and complexity of the issues. But the business sector cannot wait for a solution; they must prepare for multiple scenarios. Regarding trade tensions, some companies in the US have clearly expressed their opinion—often disagreement with the Trump administration. But most are learning to live with uncertainty while they prepare for various possible outcomes.
Meanwhile, the world continues to develop. This month's cover story focuses on materials that are becoming newly precious due to new technologies: the rising demand and the geopolitical competition to control production and extraction of these metals. The trend is clear, and is already impacting many different economies.

Andrea Fiano | Editor
afiano@gfmag.com