China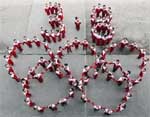 Chinese students prepare for this summer's Olympics in Beijing.
China will more strictly examine applications from listed companies to issue new shares on domestic capital markets, the China Securities Regulatory Commission announced after the Shanghai Composite Index hit its lowest point in six months on February 25. The stricter regulatory approvals could disrupt or delay the plans of Ping An Insurance (Group) Company to issue 41.2 billion yuan ($5.9 billion) in bonds and 1.2 billion new shares in Shanghai. The offering, if approved, would likely be the largest offering worldwide to date. The insurance giant announced its fund-raising plan in January, but regulators say they have not yet received an application for the massive offering.
The World Trade Organization opened a 60-day consultation period in March in a new case involving China's financial information business. Since 2006 China has required foreign financial news organizations such as Reuters and Bloomberg to supply all information to state-run Xinhua News Agency for approval before distributing the information to clients. China cites political stability as the motivation for the rules, but the US and EU charge that the regulations create a conflict of interest for Xinhua, which also operates its own financial news service.
Swiss bank UBS will create a $1 billion real estate investment fund in China as part of a recently announced agreement with Chinese property developer Gemdale. UBS will supply about $300 million in company and client funding and will leverage that amount to offer $1 billion for real estate investment. China does not allow foreign direct investment in its real estate sector, which has boomed in recent years. Recent government measures to cool the sector limit financing options for many property developers. The UBS fund will likely provide capital to work with or take over such developers and their projects, in addition to financing new projects.
Beijing's Capital International Airport opened its third terminal on February 29, greatly increasing the city's travel capacity ahead of this summer's Olympic Games. The terminal covers 1.3 million square meters, making it the world's largest building, and stretches more than 3 kilometers from north to south, according to the building's designer, architecture firm Foster & Partners. The terminal will accommodate approximately 50 million passengers annually by 2020, the firm said.
Thomas Clouse