Roundup
By Aaron Chaze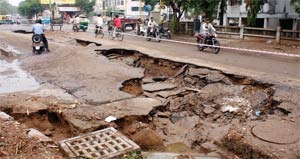 Poor transport infrastructure weighs on India's competitiveness
The Indian government's privatization program has received a shot in the arm after the Cabinet Committee on Economic Affairs (CCEA) gave the green light to a proposal to allow unlisted government companies that have been profitable for three years and which are dividend-paying to go ahead with IPOs. This move is expected to nearly double the number of listed government companies from the current 48. Large and financially strong companies such as national telecom operator BSNL, Coal India (the country's largest miner), Nuclear Power Corporation of India and National Aeronautics (a major aircraft manufacturer and defense contractor) will now be able to list their shares. The CCEA has also mandated that all currently listed public sector companies should have a minimum float of 10%. Of the 48 listed public sector companies, eight have a free float less than 10% and will be required to offer stock to the public soon.
The enhanced privatization program should help improve India's somewhat lackluster global competitiveness. In a new report, the World Economic Forum's Global Competitiveness Index (GCI) has ranked India 49th out of 133 countries. The ranking is based on scores in 12 categories and on a survey conducted by PricewaterhouseCoopers. India scores well in business and financial market sophistication, entrepreneurship and innovation but was weighed down by poor marks for transport infrastructure, primary education, health infrastructure and the government's fiscal situation.
India's largest metals and mining company, London-listed Vedanta Resources, has announced that it plans to resume a number of investment projects in India. Costing just over $8 billion, the investments include boosting capital spending on aluminum, copper and power projects. A number of projects at its various subsidiary companies had been put on hold due to the financial downturn but are now being revived, the company says. Over one quarter of the total spending will be for Vedanta's new aluminum smelting capacity in India, while the bulk of the remainder will be spent on power projects.