INDIA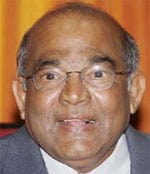 RBI governor YV Reddy may tighten interest rates.
Indian banks have continued to grow credit at a very rapid pace since the start of the new fiscal year on April 1. Bank credit expanded by 25.3% in these first few weeks. Credit grew by 26% in the corresponding period last year. At over 25%, the annual growth rate significantly exceeded the Reserve Bank of India's target credit expansion rate of 20% and has prompted fears of a further push to inflation that has already begun an ascent.
Given the twin impact of higher food and fuel costs, inflation has already pushed above 8%. The RBI has hinted that it might have to tighten monetary policy to rein in bank credit growth in an inflationary environment. The central bank recently raised the cash reserve ratio (CRR)—the level of cash that banks have to deposit with the central bank—by 75 basis points. Despite this, the Indian banking system remains very liquid, with a loan-to-deposit ratio of just 73%. Adding fuel to the inflationary fire is the Indian government's decision to hike domestic fuel prices in response to the sustained rise in international crude prices. Increasingly, the government, which administers domestic fuel prices, has not been able to bear the cost of the subsidies—mainly on cooking gas and diesel. The government raised diesel prices by 9%, petrol by 11% and cooking gas by 17%. Economists now expect inflation to rise to 8.5% in response to the price hike—a 13-year high.
Given the likelihood of higher operating costs affecting corporate India's earnings, Indian stocks have begun to look perilously overvalued. Foreign investors now consider India to be one of the most expensive markets, and during the month of May foreign institutional investors pulled out $5.4 billion from the Indian stock market. Despite a correction in index levels that brought the 30-share BSE Sensitive index to 15,572 points from an all-time high of 21,206 points recorded in January of this year, the market still trades at 17 times one-year forward earnings.
Aaron Chaze