Roundup
By Antonio Guerrero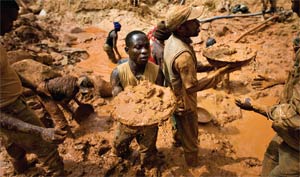 Panning for gold: African mines spark investor interest
Rising gold prices have sparked renewed interest by foreign investors in African mines. Banro, a Canadian gold miner, expects to close a debt financing deal for its Twangiza project in the Democratic Republic of the Congo by next June. Standard Chartered is the project's debt finance adviser. The company expects to begin production at the Twangiza facility in December 2011, with initial annual output of 110,000 ounces. Iamgold, another Canadian producer, is investing $12 million to acquire the IFC's 6% stake in Mali's Sadiola gold mine, while Mwana Africa will receive $10 million in debt funding from South Africa's state-owned Industrial Development Corporation to accelerate expansion of Zimbabwe's Freda Rebecca mine.
Scipion Capital, based in the Cayman Islands, has launched the Scipion Mining & Resources Fund with $15 million of seed capital to invest in Africa's mining sector. The fund will focus on investments in small-cap companies that have stopped production. Target companies will have market caps of some $200 million and be listed in Sydney, Tokyo or London. Citi is the fund's administrator, with Barclays as custodian and Deloitte as auditor.
The Zambian government acquired a 50% stake in the country's only oil refinery from France's Total El Fina EIF oil company. The Indeni refinery, which produces 24,000 barrels per day, was already 50%-owned by the government. The move comes after the government objected to Total's decision last year to sell the facility to another oil company, opting instead for its nationalization. Analysts estimate the refinery requires $65 million in capitalization to become fully operational.