BRAZIL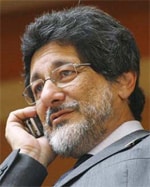 Petrobras head José Sergio Gabrielli: Prefers debt issue to equity.
The Brazilian government is grappling with the reality of new offshore oil discoveries that could produce an estimated 50 billion barrels of oil, according to private sector analysts, in a country that has already achieved energy self-sufficiency. At current prices, such reserves could produce some $5 trillion in revenues, compared with $1.7 trillion in GDP. The government plans to invest part of the expected oil windfall abroad, through a sovereign wealth fund, to thwart inflation and tackle a currency rally.
José Sergio Gabrielli, CEO of Petrobras, the country's state-controlled oil company, says he favors placing new debt to finance the development of the new offshore oil fields, instead of issuing new stock. The Brazilian government holds 38% of Petrobras' stock but maintains voting control. Petrobras plans to call for more than $113 billion in investments through 2012 to expand oil production and boost its refining capacity. The company will order 40 drilling ships and platforms for delivery by 2017 at a cost of some $30 billion.
Despite signs of an economic slowdown, Brazil's finance minister, Guido Mantega, says the government will not seek to spark growth by slashing interest rates as long as inflation remains on an uptick. Official data show annual inflation hit 6.4% through July, well above the government's 4.5% target. Inflation has been driven by escalating food prices. The finance ministry expects inflation to end 2008 at between 6% and 6.5%.
Mantega predicts the Brazilian economy, which grew by 5.4% in 2007, will expand by only 5% this year and 4% in 2009. The government's anti-inflation drive includes hiking taxes on lending and adding restrictions on leasing contracts. The measures have helped to dampen credit, which was fueling consumer demand, but have also eased growth prospects. Credit is now growing at around 20% a year, down from an earlier growth rate of near 30%.
Antonio Guerrero